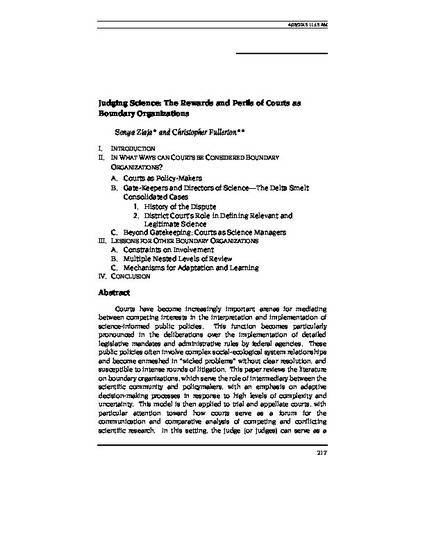 Article
Judging Science: The Rewards and Perils of Courts as Boundary Organizations
Hastings Environmental Law Journal
Publication Date
4-28-2015
Abstract
Courts have become increasingly important arenas for mediating between competing interests in the interpretation and implementation of science-informed public policies. This function becomes particularly pronounced in the deliberations over the implementation of detailed legislative mandates and administrative rules by federal agencies. These public policies often involve complex social-ecological system relationships and become enmeshed in "wicked problems" without clear resolution, and susceptible to intense rounds of litigation. This paper reviews the literature on boundary organizations, which serve the role of intermediary between the scientific community and policymakers, with an emphasis on adaptive decision-making processes in response to high levels of complexity and uncertainty. This model is then applied to trial and appellate courts, with particular attention toward how courts serve as a forum for the communication and comparative analysis of competing and conflicting scientific research. In this setting, the judge (or judges) can serve as a critically important gatekeeper in overseeing the inclusion or exclusion of scientific research and the testimony of expert witnesses during court proceedings. The discretion given to trial judges during appellate review underscores the pivotal role of the court of first instance in monitoring the admissibility of "best available science" in judicial proceedings. The benefits and shortcomings of having these societal functions fulfilled by judges, who are often not extensively trained in scientific methodologies and research approaches, are reviewed. Finally, recommendations for further study are offered to investigate the relative capacities of the courts as boundary organizations in greater detail.
Citation Information
Sonya Ziaja and Christopher Fullerton. "Judging Science: The Rewards and Perils of Courts as Boundary Organizations"
Hastings Environmental Law Journal
Vol. 21 (2015) p. 217
Available at: http://works.bepress.com/sonya-ziaja/6/