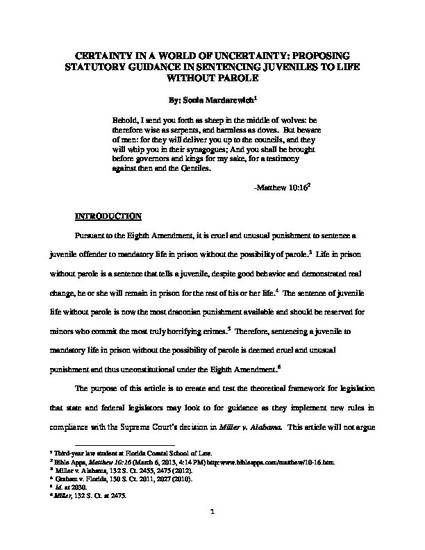 Unpublished Paper
CERTAINTY IN A WORLD OF UNCERTAINTY: PROPOSING STATUTORY GUIDANCE IN SENTENCING JUVENILES TO LIFE WITHOUT PAROLE
ExpressO (2013)
Abstract
CERTAINTY IN A WORLD OF UNCERTAINTY: PROPOSING
STATUTORY GUIDANCE IN SENTENCING JUVENILES TO LIFE WITHOUT PAROLE
Sonia Mardarewich[1]
Florida Coastal School of Law
March 2013
Abstract: Before the Supreme Court's decision in Miller v. Alabama, the states were divided between mandatory and discretionary life without the possibility of parole sentencing approaches. The Supreme Court decision of Miller eliminated mandatory life without parole for juvenile defendants under the age of eighteen at the time of the crime. The Supreme Court now mandates that every juvenile must be granted an individualized sentencing hearing to ensure youth and attendant mitigating circumstances are evaluated before imposing the sentence of life without the possibility of parole. However, the Supreme Court failed to identify and assign weight to the envisioned relevant factors, thus leaving lower courts without guidance. The purpose of this article is to create and test a theoretical framework for legislation that state and federal legislators may rely upon for guidance as they implement new rules in compliance with the Supreme Court's decisions in Miller. This article examines: 1) the precedent cases that paved the way for the Supreme Court's decision eliminating mandatory sentencing of juveniles to life without parole; 2) the Supreme Court's historic decision in Miller; 3) the legislative action states have taken since the Miller decision; 4) how legislatures can expand Miller to eliminate juvenile life without parole based on a finding of transferred intent; 5) the variety of existing federal acts that helped create this proposed model sentencing statute. The article concludes by proposing a model juvenile sentencing statute incorporating the mitigating factors envisioned by the Miller Court's requirement of individualized hearings.
[1]Third-year law student at Florida Coastal School of Law. I would like to thank Professor Julia H. McLaughlin, Assistant Professor at Florida Coastal School of Law, for the valuable feedback, guidance, and encouragement she has provided in writing this scholarly article.
Publication Date
March 9, 2013
Citation Information
Sonia A Mardarewich. "CERTAINTY IN A WORLD OF UNCERTAINTY: PROPOSING STATUTORY GUIDANCE IN SENTENCING JUVENILES TO LIFE WITHOUT PAROLE"
ExpressO
(2013)
Available at: http://works.bepress.com/sonia_mardarewich/1/