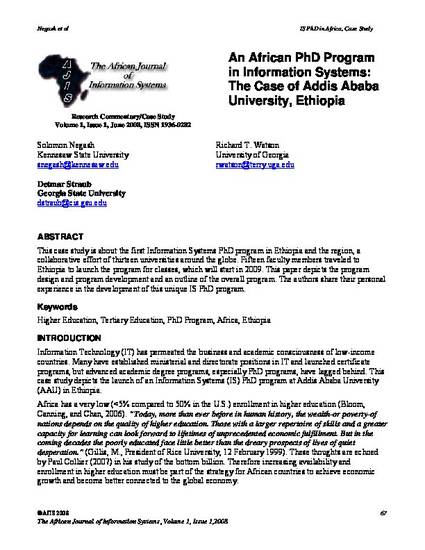 Article
An African PhD Program in Information Systems: The Case of Addis Ababa University, Ethiopia
The African Journal of Information Systems
Publication Date
6-1-2008
Abstract
This case study is about the first Information Systems PhD program in Ethiopia and the region, a collaborative effort of thirteen universities around the globe. Fifteen faculty members traveled to Ethiopia to launch the program for classes, which will start in 2009. This paper depicts the program design and program development and an outline of the overall program. The authors share their personal experience in the development of this unique IS PhD program.
Citation Information
Negash, S., Watson, R. and Straub, D. (2008) An African PhD Program in Information Systems: The Case of Addis Ababa University, Ethiopia, The African Journal of Information Systems, Volume 1, Issue 1, pp. 67-76.