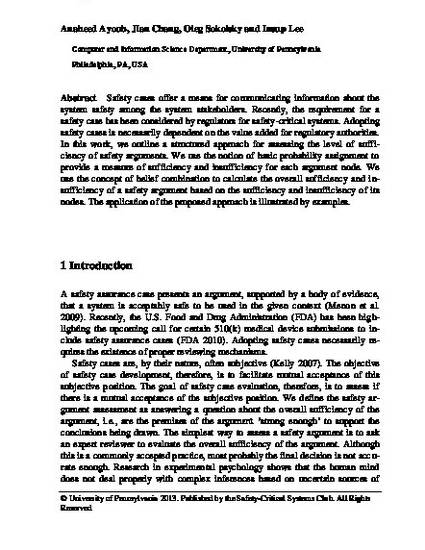 Article
Assessing the Overall Sufficiency of Safety Arguments
21st Safety-Critical Systems Symposium (SSS'13)
Date of this Version
2-1-2013
Document Type
Conference Paper
Abstract
Safety cases offer a means for communicating information about the system safety among the system stakeholders. Recently, the requirement for a safety case has been considered by regulators for safety-critical systems. Adopting safety cases is necessarily dependent on the value added for regulatory authorities. In this work, we outline a structured approach for assessing the level of sufficiency of safety arguments. We use the notion of basic probability assignment to provide a measure of sufficiency and insufficiency for each argument node. We use the concept of belief combination to calculate the overall sufficiency and insufficiency of a safety argument based on the sufficiency and insufficiency of its nodes. The application of the proposed approach is illustrated by examples.
Keywords
safety cases,
safety argument assessment,
Dempster-Shafer Theory
Citation Information
Anaheed Ayoub, Jian Chang, Oleg Sokolsky and Insup Lee. "Assessing the Overall Sufficiency of Safety Arguments"
21st Safety-Critical Systems Symposium (SSS'13)
(2013) p. 127 - 144
Available at: http://works.bepress.com/sokolsky/62/