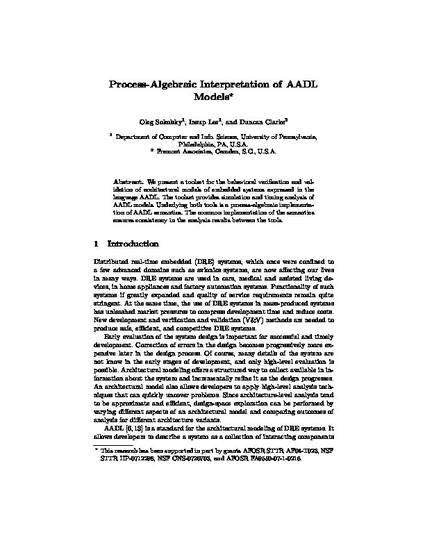 Article
Process-Algebraic Interpretation of AADL Models
Lecture Notes in Computer Science: Reliable Software Technologies - Ada-Europe 2009
Date of this Version
6-8-2009
Document Type
Conference Paper
Abstract
We present a toolset for the behavioral verification and validation of architectural models of embedded systems expressed in the language AADL. The toolset provides simulation and timing analysis of AADL models. Underlying both tools is a process-algebraic implementation of AADL semantics. The common implementation of the semantics ensures consistency in the analysis results between the tools.
DOI
10.1007/978-3-642-01924-1_16
Copyright/Permission Statement
The final publication is available at Springer via http://dx.doi.org/10.1007/978-3-642-01924-1_16
Citation Information
Oleg Sokolsky, Insup Lee and Duncan Clarke. "Process-Algebraic Interpretation of AADL Models"
Lecture Notes in Computer Science: Reliable Software Technologies - Ada-Europe 2009
Vol. 5570 (2009) p. 222 - 236
Available at: http://works.bepress.com/sokolsky/26/