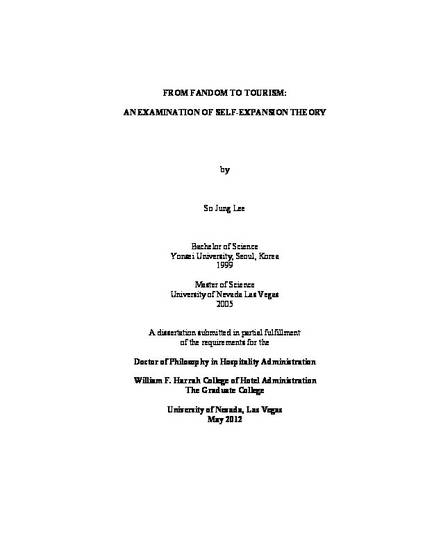 Dissertation
From fandom to tourism: An examination of self-~expansion theory
UNLV Theses, Dissertations, Professional Papers, and Capstones
Degree Name
Doctor of Philosophy (PhD)
Department
Hotel Administration
First Committee Member
Billy Bai
Second Committee Member
James Busser
Third Committee Member
Tony Henthorne
Fourth Committee Member
Eunsook Hong
Abstract
In recent years, pop-culture tourism, in which individuals travel to destinations made famous through pop-culture or relative media themes, has come into the spotlight. The new market segment induced by pop-culture has created a specialized but dedicated consumer, called a "fan." This study examined the impact of pop-stars on a destination from the perspective of fans. Specifically, the research investigated whether fans at different degrees of fandom had different travel attitudes and behaviors with regard to motivation, satisfaction, attachment, and loyalty in the destination context by applying self-expansion theory. In particular, Korean pop-star's fans were chosen as the study example of Korean pop-culture.
This research provided empirical support for the impact of fandom on tourism. Results of the study revealed a new characteristic of fans, a high level of self-expansion. Fans' self-expansion was significant in influencing their fandom and travel motivation. As a result, a high degree of fandom had a significant effect on travel satisfaction and destination loyalty.
Given the growing importance of pop-culture tourism, this research is among the first studies to investigate the impact of fandom on tourism, providing new insights in understanding this niche segment from the pop-culture fans' perspective. The examination of self-expansion theory on fandom and tourism has helped to bridge the link between a fan and a destination, extending the literature on destination studies, and suggesting meaningful implications for destination marketers. The findings of this study suggest that future research continue to investigate destination markets with different and/or broader contexts using diverse research approaches.
Keywords
Consumer behavior,
Culture and tourism,
Destination,
Fandom,
Fans (Persons),
Pop-culture,
Popular culture,
Self-Expansion Theory,
Tourism
Degree Grantor
University of Nevada, Las Vegas
Rights
IN COPYRIGHT. For more information about this rights statement, please visit http://rightsstatements.org/vocab/InC/1.0/
Citation Information
So Jung Lee. "From fandom to tourism: An examination of self-~expansion theory" (2012)
Available at: http://works.bepress.com/sojung-lee/4/