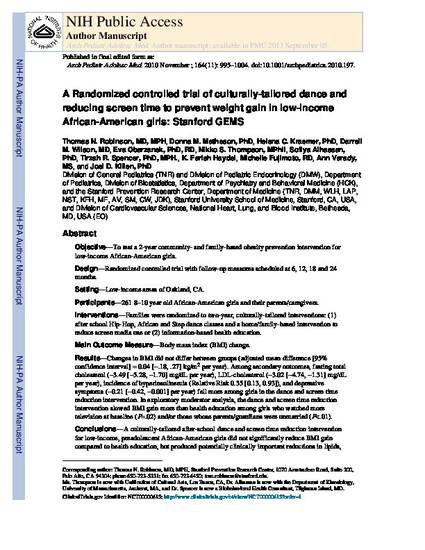 Article
A Randomized controlled trial of culturally-tailored dance and reducing screen time to prevent weight gain in low-Income African-American girls: Stanford GEMS
Archives of Pediatrics & Adolescent Medicine (2010)
Abstract
Child and adolescent obesity have more than tripled among African-American girls since the 1960's, with the greatest increases since 1980.1–3 Body mass index (BMI) differences between white and black girls are present before age six years, significantly widen in older age groups, and are independent of socioeconomic status.4 Reviews of cardiovascular disease and cancer risk reduction studies in children and adolescents suggest that body weight may be more difficult to change than other risk factors.5–7 Few studies have tested intervention strategies specifically designed for African-American girls and their families.8–13 Girls' health Enrichment Multi-site Studies (GEMS) was a National, Heart, Lung, and Blood Institute (NHLBI)-sponsored collaborative effort to develop and test interventions to reduce weight gain in African-American preadolescent girls.8–13 This paper describes the outcomes of the Stanford GEMS trial, a 2-arm parallel group, randomized controlled trial to test the efficacy of a culturally-tailored after school dance program and a family-based intervention to reduce television, videotape and video game use to reduce body mass index gain among lower socioeconomic status (SES) African-American pre-adolescent girls. Participants were randomized to the dance and television reduction intervention versus an information-based health education intervention for 2 years.
Citation Information
Thomas N. Robinson, Donna M. Matheson, Helena C. Kraemer, Darrell M. Wilson, et al.. "A Randomized controlled trial of culturally-tailored dance and reducing screen time to prevent weight gain in low-Income African-American girls: Stanford GEMS"
Archives of Pediatrics & Adolescent Medicine
Vol. 164 Iss. 11 (2010)
Available at: http://works.bepress.com/sofiya_alhassan/3/