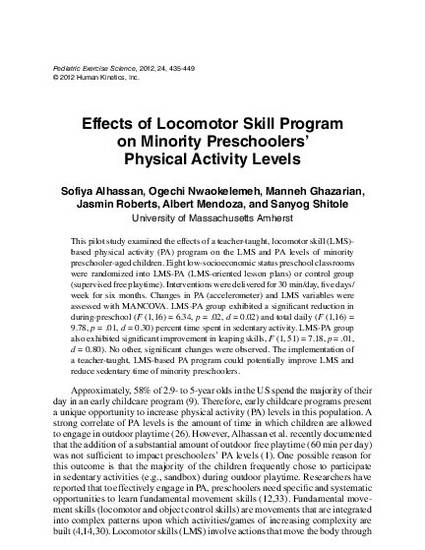 Article
Effects of Locomotor Skill Program on Minority Preschoolers' Physical Activity Levels
Pediatric Exercise Science (2012)
Abstract
This pilot study examined the effects of a teacher-taught, locomotor skill (LMS)- based physical activity (PA) program on the LMS and PA levels of minority preschooler-aged children. Eight low-socioeconomic status preschool classrooms were randomized into LMS-PA (LMS-oriented lesson plans) or control group (supervised free playtime). Interventions were delivered for 30 min/day, five days/ week for six months. Changes in PA (accelerometer) and LMS variables were assessed with MANCOVA. LMS-PA group exhibited a significant reduction in during-preschool (F (1,16) = 6.34, p = .02, d = 0.02) and total daily (F (1,16) = 9.78, p = .01, d = 0.30) percent time spent in sedentary activity. LMS-PA group also exhibited significant improvement in leaping skills, F (1, 51) = 7.18, p = .01, d = 0.80). No other, significant changes were observed. The implementation of a teacher-taught, LMS-based PA program could potentially improve LMS and reduce sedentary time of minority preschoolers.
Citation Information
Sofiya Alhassan, Ogechi Nwaokelemeh, Manneh Ghazarian, Jasmin Roberts, et al.. "Effects of Locomotor Skill Program on Minority Preschoolers' Physical Activity Levels"
Pediatric Exercise Science
Vol. 24 (2012)
Available at: http://works.bepress.com/sofiya_alhassan/2/