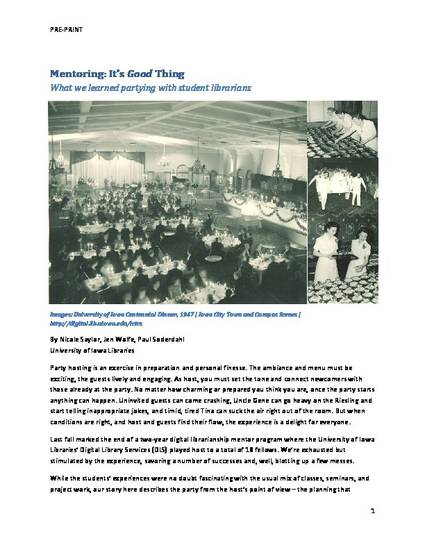 Article
Mentoring: It's a Good Thing: what we learned partying with student librarians
College & Research Libraries News
Publication Date
11-1-2011
DOI of Published Version
10.5860/crln.72.10.8650
Abstract
Party hosting is an exercise in preparation and personal finesse. The ambiance and menu must be exciting, the guests lively and engaging. As host, you must set the tone and connect newcomers with those already at the party. No matter how charming or prepared you think you are, once the party starts anything can happen. Uninvited guests can come crashing, Uncle Gene can go heavy on the Riesling and start telling inappropriate jokes, and timid, tired Tina can suck the air right out of the room. But when conditions are right, and host and guests find their flow, the experience is a delight for everyone. Last fall marked the end of a two-year digital librarianship mentor program where the University of Iowa Libraries' Digital Library Services (DLS) played host to a total of 18 fellows. We're exhausted but stimulated by the experience, savoring a number of successes and, well, blotting up a few messes. While the students' experiences were no doubt fascinating with the usual mix of classes, seminars, and project work, our story here describes the party from the host's point of view – the planning that worked and the unexpected surprises, the effect on staff dynamics, the unimagined strides made in growing a relatively young digital library program, and the impact of the students' departure forcing us to realign workflows and develop a new plan to sustain and move forward.
Keywords
student mentoring,
digital libraries
Journal Article Version
Accepted Manuscript
Rights
Copyright © 2011 Nicole Saylor, Jen Wolfe, and Paul Soderdahl
Citation Information
Nicole Saylor, Jen Wolfe and Paul A Soderdahl. "Mentoring: It's a Good Thing: what we learned partying with student librarians"
College & Research Libraries News
Vol. 72 Iss. 10 (2011) p. 566 - 570 ISSN: 0099-0086
Available at: http://works.bepress.com/soderdahl/45/