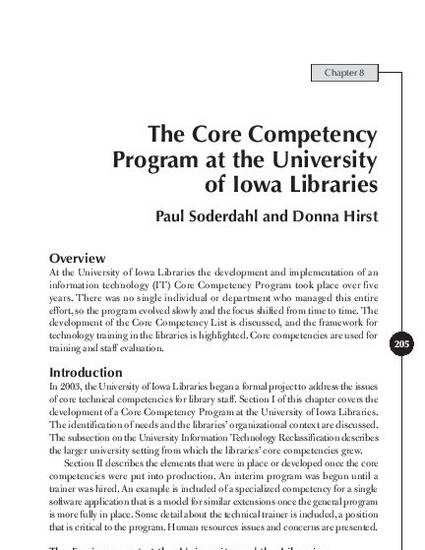 Contribution to Book
The Core Competency Program at the University of Iowa Libraries
Core Technology Competencies for Librarians and Library Staff
Document Type
Contribution to Book
Publication Date
1-1-2009
Abstract
At the University of Iowa Libraries the development and implementation of an information technology (IT) Core Competency Program took place over five years. There was no single individual or department who managed this entire effort, so the program evolved slowly and the focus shifted from time to time. The development of the Core Competency List is discussed, and the framework for technology training in the libraries is highlighted. Core competencies are used for training and staff evaluation.
Journal Article Version
Version of Record
Published Article/Book Citation
Core Technology Competencies for Librarians and Library Staff: A LITA Guide
, 2009.
Rights
Copyright © 2009 by the Library and Information Technology Association, a division of the American Library Association.
Citation Information
Paul A Soderdahl and Donna L Hirst. "The Core Competency Program at the University of Iowa Libraries"
Core Technology Competencies for Librarians and Library Staff
(2009) p. 205 - 238
Available at: http://works.bepress.com/soderdahl/28/