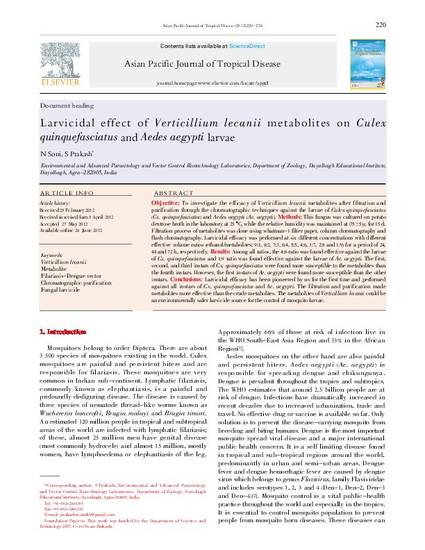 Article
Larvicidal effect of Verticillium lecanii metabolites on Culex quinquefasciatus and Aedes aegypti larvae
Asian Pacific Journal of Tropical Disease (2012)
Abstract
Objective: To investigate the efficacy of Verticillium lecanii metabolites after filtration and purification through the chromatographic techniques against the larvae of Culex quinquefasciatus (Cx. quinquefasciatus) and Aedes aegypti (Ae. aegypti). Methods: This fungus was cultured on potato dextrose broth in the laboratory at 25 °C, while the relative humidity was maintained at (75暲5)% for 15 d. Filtration process of metabolites was done using whatman-1 filter paper, column chromatography and flash chromatography. Larvicidal efficacy was performed at six different concentrations with different effective volume ratios (ethanol/metabolites: 9:1, 8:2, 7:3, 6:4, 5:5, 4:6, 3:7, 2:8 and 1:9) for a period of 24, 48 and 72 h, respectively. Results: Among all ratios, the 4:6 ratio was found effective against the larvae of Cx. quinquefasciatus and 1:9 ratio was found effective against the larvae of Ae. aegypti. The first, second, and third instars of Cx. quinquefasciatus were found more susceptible to the metabolites than the fourth instars. However, the first instars of Ae. aegypti were found more susceptible than the other instars. Conclusions: Larvicidal efficacy has been pioneered by us for the first time and performed against all instars of Cx. quinquefasciatus and Ae. aegypti. The filtration and purification made metabolites more effective than the crude metabolites. The metabolites of Verticillium lecanii could be an environmentally safer larvicide source for the control of mosquito larvae.
Keywords
Verticillium lecanii Metabolite Filariasis-Dengue vector Chromatographic
Publication Date
Summer June 28, 2012
Citation Information
Namita Soni and Soam Prakash. "Larvicidal effect of Verticillium lecanii metabolites on Culex quinquefasciatus and Aedes aegypti larvae"
Asian Pacific Journal of Tropical Disease
(2012)
Available at: http://works.bepress.com/soamprakash/7/