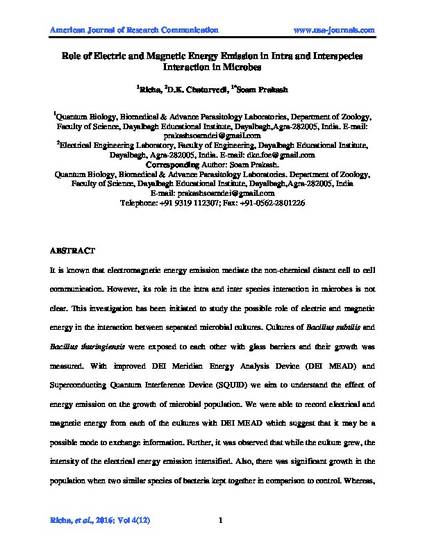 Article
Role of Electric and Magnetic Energy Emission in Intra and Interspecies Interaction in Microbes_AJRC_2016.pdf
American Journal of Research Communication (2016)
Abstract
It is known that electromagnetic energy emission mediate the non-chemical distant cell to cell communication. However, its role in the intra and inter species interaction in microbes is not clear. This investigation has been initiated to study the possible role of electric and magnetic energy in the interaction between separated microbial cultures. Cultures of Bacillus subtilis and Bacillus thuringiensis were exposed to each other with glass barriers and their growth was measured. With improved DEI Meridian Energy Analysis Device (DEI MEAD) and Superconducting Quantum Interference Device (SQUID) we aim to understand the effect of energy emission on the growth of microbial population. We were able to record electrical and magnetic energy from each of the cultures with DEI MEAD which suggest that it may be a possible mode to exchange information. Further, it was observed that while the culture grew, the intensity of the electrical energy emission intensified. Also, there was significant growth in the population when two similar species of bacteria kept together in comparison to control. Whereas, Richa, et al., 2016: Vol 4(12) 2
the growth reduced when two different species were exposed to each other. With SQUID, very weak magnetic energy from the culture could be recorded. However, it was observed that both species were diamagnetic in nature. We could infer here that the intra and inter-species energy exchange between the two cultures have a significant role in regulation of biological functions and hence, their growth. This could be further investigated with different species of microbes as it may be an aid to study primary and secondary infections in biomedical science.
Keywords
SQUID,
microbes,
electric energy,
magnetic energy,
intra and interspecies
Publication Date
Winter December 3, 2016
Citation Information
Richa ., D. K. Chaturvedi and Soam Prakash. "Role of Electric and Magnetic Energy Emission in Intra and Interspecies Interaction in Microbes_AJRC_2016.pdf"
American Journal of Research Communication
(2016)
Available at: http://works.bepress.com/soamprakash/19/