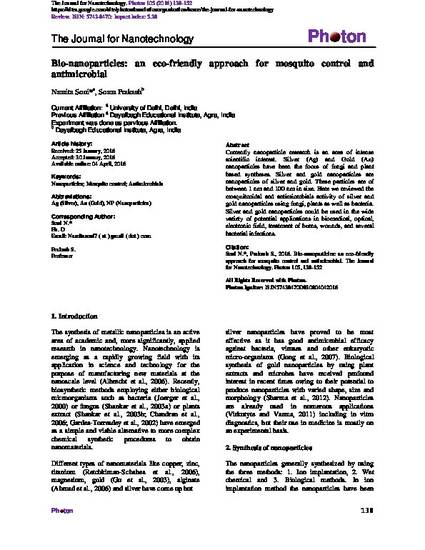 Article
Bio-nanoparticles: an eco-friendly approach for mosquito control and antimicrobial
The Journal for Nanotechnology, PHOTON (2016)
Abstract
Currently nanoparticle research is an area of intense
scientific interest. Silver (Ag) and Gold (Au)
nanoparticles have been the focus of fungi and plant
based syntheses. Silver and gold nanoparticles are
nanoparticles of silver and gold. These particles are of
between 1 nm and 100 nm in size. Here we reviewed the
mosquitocidal and antimicrobials activity of silver and
gold nanoparticles using fungi, plants as well as bacteria.
Silver and gold nanoparticles could be used in the wide
variety of potential applications in biomedical, optical,
electronic field, treatment of burns, wounds, and several
bacterial infections.
Keywords
Nanoparticles; Mosquito control; Antimicrobials
Publication Date
Summer April 4, 2016
Citation Information
Namita Soni and Soam Prakash. "Bio-nanoparticles: an eco-friendly approach for mosquito control and antimicrobial"
The Journal for Nanotechnology, PHOTON
(2016)
Available at: http://works.bepress.com/soamprakash/18/