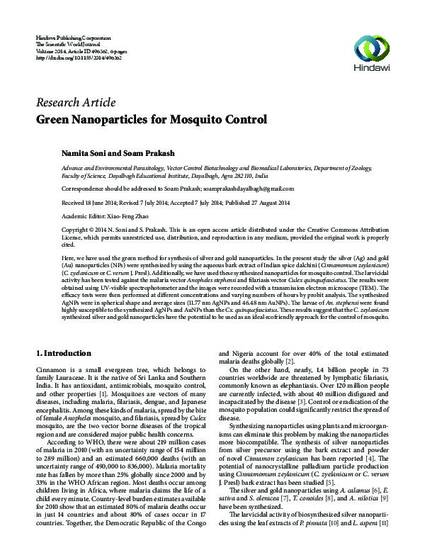 Article
Green Nanoparticles for Mosquito Control
The Scientific World Journal (2014)
Abstract
Here, we have used the green method for synthesis of silver and gold nanoparticles. In the present study the silver (Ag) and gold
(Au) nanoparticles (NPs) were synthesized by using the aqueous bark extract of Indian spice dalchini (Cinnamomum zeylanicum)
(C. zyelanicumor C. verumJ. Presl). Additionally, we have used these synthesized nanoparticles formosquito control.The larvicidal
activity has been tested against the malaria vector Anopheles stephensi and filariasis vector Culex quinquefasciatus.The resultswere
obtained using UV-visible spectrophotometer and the images were recorded with a transmission electron microscope (TEM). The
efficacy tests were then performed at different concentrations and varying numbers of hours by probit analysis. The synthesized
AgNPs were in spherical shape and average sizes (11.77nm AgNPs and 46.48 nm AuNPs). The larvae of An. stephensi were found
highly susceptible to the synthesized AgNPs and AuNPs than the Cx. quinquefasciatus.These results suggest that the C. zeylanicum
synthesized silver and gold nanoparticles have the potential to be used as an ideal ecofriendly approach for the control of mosquito.
Keywords
gold nanoparticles,
silver nanoparticles,
Cinnamomum zeylanicum,
Anopheles stephensi,
Culex quinquefasciatus
Publication Date
Fall August 27, 2014
Citation Information
namita soni and Soam Prakash. "Green Nanoparticles for Mosquito Control"
The Scientific World Journal
(2014)
Available at: http://works.bepress.com/soamprakash/15/