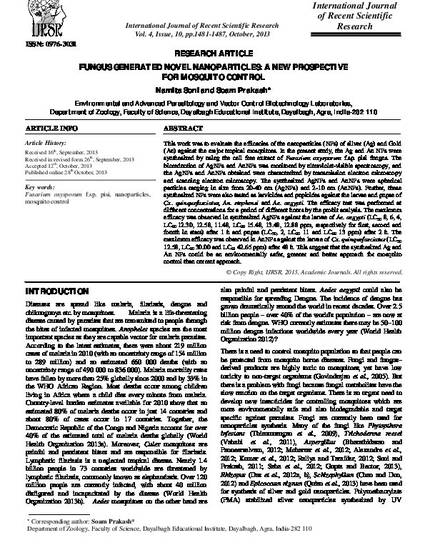 Article
FUNGUS GENERATED NOVEL NANOPARTICLES: A NEW PROSPECTIVE FOR MOSQUITO CONTROL
International Journal of Recent Scientific Research (2013)
Abstract
This work was to evaluate the efficacies of the nanoparticles (NPs) of silver (Ag) and Gold
(Au) against the major tropical mosquitoes. In the present study, the Ag and Au NPs were
synthesized by using the cell free extract of Fusarium oxysporum f.sp. pisi fungus. The
bioreduction of AgNPs and AuNPs was monitored by ultraviolet-visible spectroscopy, and
the AgNPs and AuNPs obtained were characterized by transmission electron microscopy
and scanning electron microscopy. The synthesized AgNPs and AuNPs were spherical
particles ranging in size from 20-40 nm (AgNPs) and 2-10 nm (AuNPs). Further, these
synthesized NPs were also tasted as larvicides and pupicides against the larvae and pupae of
Cx. quinquefasciatus, An. stephensi and Ae. aegypti. The efficacy test was performed at
different concentrations for a period of different hours by the probit analysis. The maximum
efficacy was observed in synthesized AgNPs against the larvae of Ae. aegypti (LC50 8, 6, 4,
LC90 12.30, 12.58, 11.48, LC99 15.48, 13.48, 12.88 ppm, respectively for first, second and
fourth in stars) after 1 h and pupae (LC50, 2, LC90 11 and LC99 13 ppm) after 2 h. The
maximum efficacy was observed in AuNPs against the larvae of Cx. quinquefasciatus (LC50
12.58, LC90 30.00 and LC99 42.65 ppm) after 48 h. This suggest that the synthesized Ag and
Au NPs could be an environmentally safer, greener and better approach for mosquito
control than current approach.
Keywords
Fusarium oxysporum f.sp. pisi,
nanoparticles,
mosquito control
Publication Date
Fall October 28, 2013
Citation Information
Namita Soni and Soam Prakash. "FUNGUS GENERATED NOVEL NANOPARTICLES: A NEW PROSPECTIVE FOR MOSQUITO CONTROL"
International Journal of Recent Scientific Research
(2013)
Available at: http://works.bepress.com/soamprakash/12/