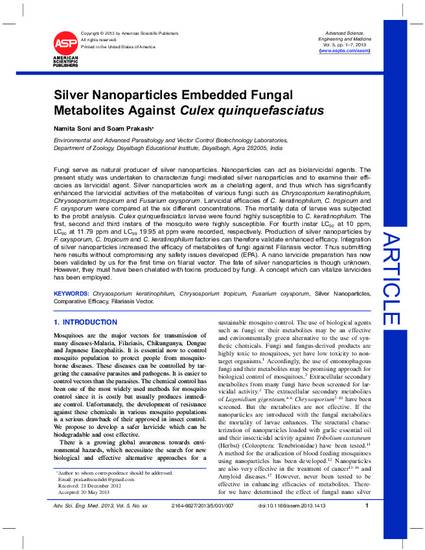 Article
Silver Nanoparticles Embedded Fungal Metabolites Against Culex quinquefasciatus
Advanced Science, Engineering and Medicine (2013)
Abstract
Fungi serve as natural producer of silver nanoparticles. Nanoparticles can act as biolarvicidal agents. The
present study was undertaken to characterize fungi mediated silver nanoparticles and to examine their efficacies
as larvicidal agent. Silver nanoparticles work as a chelating agent, and thus which has significantly
enhanced the larvicidal activities of the metabolites of various fungi such as Chrysosporium keratinophilum,
Chrysosporium tropicum and Fusarium oxysporum. Larvicidal efficacies of C. keratinophilum, C. tropicum and
F. oxysporum were compared at the six different concentrations. The mortality data of larvae was subjected
to the probit analysis. Culex quinquefasciatus larvae were found highly susceptible to C. keratinophilum. The
first, second and third instars of the mosquito were highly susceptible. For fourth instar LC50 at 10 ppm,
LC90 at 11.79 ppm and LC99 19.95 at ppm were recorded, respectively. Production of silver nanoparticles by
F. oxysporum, C. tropicum and C. keratinophilum factories can therefore validate enhanced efficacy. Integration
of silver nanoparticles increased the efficacy of metabolites of fungi against Filariasis vector. Thus submitting
here results without compromising any safety issues developed (EPA). A nano larvicide preparation has now
been validated by us for the first time on filarial vector. The fate of silver nanoparticles is though unknown.
However, they must have been chelated with toxins produced by fungi. A concept which can vitalize larvicides
has been employed.
Keywords
Chrysosporium keratinophilum,
Chrysosporium tropicum,
Fusarium oxysporum,
Silver Nanoparticles,
Comparative Efficacy,
Filariasis Vector.
Publication Date
Summer May 20, 2013
Citation Information
Soam Prakash and Namita Soni. "Silver Nanoparticles Embedded Fungal Metabolites Against Culex quinquefasciatus"
Advanced Science, Engineering and Medicine
(2013)
Available at: http://works.bepress.com/soamprakash/11/