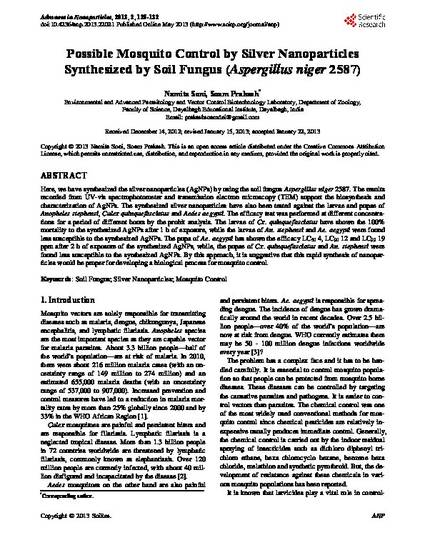 Article
Possible Mosquito Control by Silver Nanoparticles Synthesized by Soil Fungus (Aspergillus niger 2587)
Advances in Nanoparticles (2013)
Abstract
Here, we have synthesized the silver nanoparticles (AgNPs) by using the soil fungus Aspergillus niger 2587. The results recorded from UV-vis spectrophotometer and transmission electron microscopy (TEM) support the biosynthesis and characterization of AgNPs. The synthesized silver nanoparticles have also been tested against the larvae and pupae of Anopheles stephensi, Culex quinquefasciatus and Aedes aegypti. The efficacy test was performed at different concentra-tions for a period of different hours by the probit analysis. The larvae of Cx. quinquefasciatus have shown the 100% mortality to the synthesized AgNPs after 1 h of exposure, while the larvae of An. stephensi and Ae. aegypti were found less susceptible to the synthesized AgNPs. The pupa of Ae. aegypti has shown the efficacy LC50 4, LC90 12 and LC99 19 ppm after 2 h of exposure of the synthesized AgNPs, while, the pupae of Cx. quinquefasciatus and An. stephensi were found less susceptible to the synthesized AgNPs. By this approach, it is suggestive that this rapid synthesis of nanopar-ticles would be proper for developing a biological process for mosquito control.
Keywords
Soil Fungus; Silver Nanoparticles; Mosquito Control
Publication Date
Spring January 22, 2013
Citation Information
Namita Soni and Soam Prakash. "Possible Mosquito Control by Silver Nanoparticles Synthesized by Soil Fungus (Aspergillus niger 2587)"
Advances in Nanoparticles
(2013)
Available at: http://works.bepress.com/soamprakash/10/