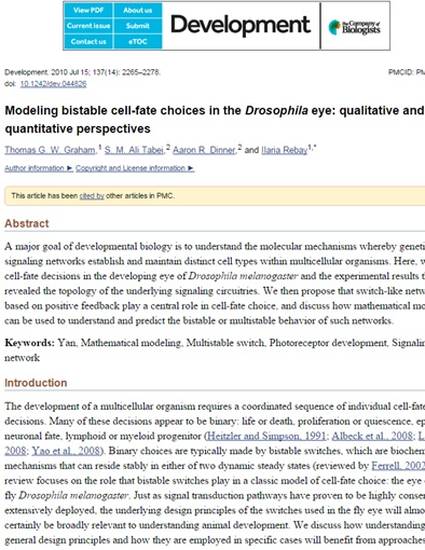 Article
Modeling Bistable Cell-Fate Choices in the Drosophila Eye: Qualitative and Quantitative Perspectives
Development (2010)
Abstract
A major goal of developmental biology is to understand the molecular mechanisms whereby genetic signaling networks establish and maintain distinct cell types within multicellular organisms. Here, we review cell-fate decisions in the developing eye of Drosophila melanogaster and the experimental results that have revealed the topology of the underlying signaling circuitries. We then propose that switch-like network motifs based on positive feedback play a central role in cell-fate choice, and discuss how mathematical modeling can be used to understand and predict the bistable or multistable behavior of such networks.
Citation Information
T.G. Graham, S.M. Ali Tabei, Aaron R. Dinner and J. Rebay. "Modeling Bistable Cell-Fate Choices in the Drosophila Eye: Qualitative and Quantitative Perspectives"
Development
Vol. 137 Iss. 14 (2010) p. 2265 - 2278
Available at: http://works.bepress.com/sm-tabei/9/