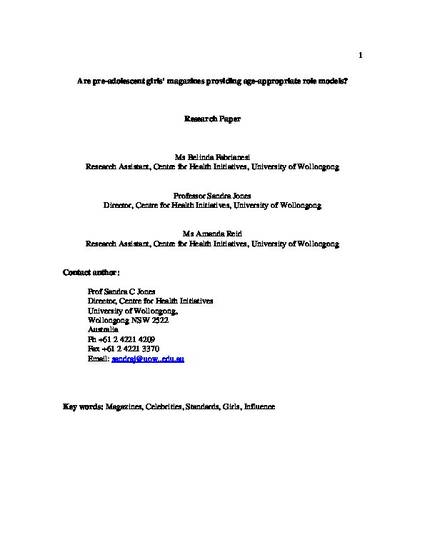 Article
Are pre-adolescent girls' magazines providing age-appropriate role models?
Faculty of Health and Behavioural Sciences - Papers (Archive)
Publication Date
1-1-2008
Abstract
Purpose – Repeated exposure to unrealistic notions of female beauty and body shapes, and limited gender stereotypes, may result in the internalization of those standards by pre-adolescent girls. The purpose of this content analysis is to examine the celebrity role models to whom young girls are exposed via magazines specifically targeted at the "tween" audience. Female celebrities are contrasted with those in magazines targeted at older adolescent girls. Design/methodology/approach – Two pre-adolescent girls' magazines, Total Girl and Barbie, and two adolescent girls' magazines, Dolly and Girlfriend, were analyzed for the first six months of 2005. All photos (including advertising images) of female celebrities were recorded along with image context; celebrity occupation and age were researched. Findings – Results showed that there was little difference between pre-adolescent girls' magazines and adolescent magazines in the frequency of celebrity images, and surprisingly only minimal difference in the average age of featured celebrities (22 compared with 23 years old). The occupations of the most frequent celebrities (in all magazines) were limited to actors, singers, and socialites. Further examination of the 12 most frequent celebrities appearing in the pre-adolescent magazines identified that many of them were publicly recorded as engaging in behaviors such as disordered eating and drug use. Originality/value – The study is novel in its analysis of celebrities in pre-adolescent magazines, which have grown in popularity over the last decade. The frequent appearance of relatively older celebrities who could be considered age-inappropriate role-models is cause for concern; educational interventions that focus on criticality towards female beauty standards need to be reinforced in primary schools.
Citation Information
Belinda S Fabrianesi, Sandra C Jones and Amanda Reid. "Are pre-adolescent girls' magazines providing age-appropriate role models?" (2008) p. 437 - 449
Available at: http://works.bepress.com/sjones/141/