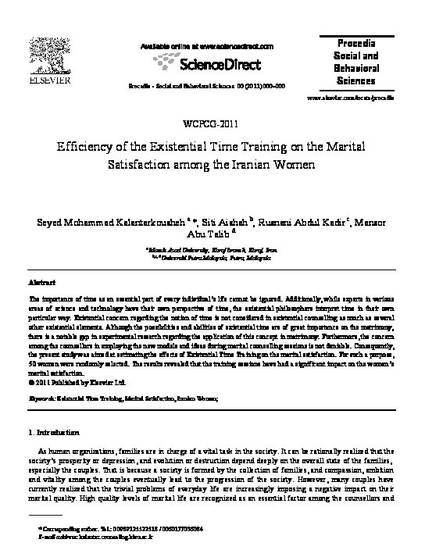 Article
Efficiency of the Existential Time Training on the Marital Satisfaction among the Iranian Women
Procedia Social and Behavioral Sciences (2011)
Abstract
The importance of time as an essential part of every individual's life cannot be ignored. Additionally, while experts in various areas of science and technology have their own perspective of time, the existential philosophers interpret time in their own particular way. Existential concern regarding the notion of time is not considered in existential counselling as much as several other existential elements. Although the possibilities and abilities of existential time are of great importance on the matrimony, there is a notable gap in experimental research regarding the application of this concept in matrimony. Furthermore, the concern among the counsellors in employing the new models and ideas during marital counselling sessions is not deniable. Consequently, the present study was aimed at estimating the effects of Existential Time Training on the marital satisfaction. For such a purpose, 50 women were randomly selected. The results revealed that the training sessions have had a significant impact on the women's marital satisfaction.
Keywords
Existential Time Training,
Marital Satisfaction,
Iranian Women
Citation Information
Siti Aishah Hassan. "Efficiency of the Existential Time Training on the Marital Satisfaction among the Iranian Women"
Procedia Social and Behavioral Sciences
(2011)
Available at: http://works.bepress.com/siti_hassan/21/