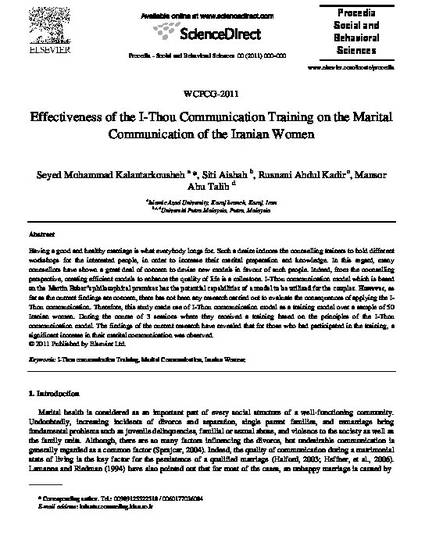 Article
Effectiveness of the I-Thou Communication Training on the Marital Communication of the Iranian Women
Procedia - Social and Behavioral Sciences (2011)
Abstract
Having a good and healthy marriage is what everybody longs for. Such a desire induces the counselling trainers to hold different workshops for the interested people, in order to increase their marital preparation and knowledge. In this regard, many counsellors have shown a great deal of concern to devise new models in favour of such people. Indeed, from the counselling perspective, creating efficient models to enhance the quality of life is a milestone. I-Thou communication model which is based on the Martin Buber"s philosophical premises has the potential capabilities of a model to be utilized for the couples. However, as far as the current findings are concern, there has not been any research carried out to evaluate the consequences of applying the IThou communication. Therefore, this study made use of I-Thou communication model as a training model over a sample of 50 Iranian women. During the course of 3 sessions where they received a training based on the principles of the I-Thou communication model. The findings of the current research have revealed that for those who had participated in the training, a significant increase in their marital communication was observed.
Keywords
I-Thou communication Training,
Marital Communication,
Iranian Women
Citation Information
Siti Aishah Hassan. "Effectiveness of the I-Thou Communication Training on the Marital Communication of the Iranian Women"
Procedia - Social and Behavioral Sciences
(2011)
Available at: http://works.bepress.com/siti_hassan/19/