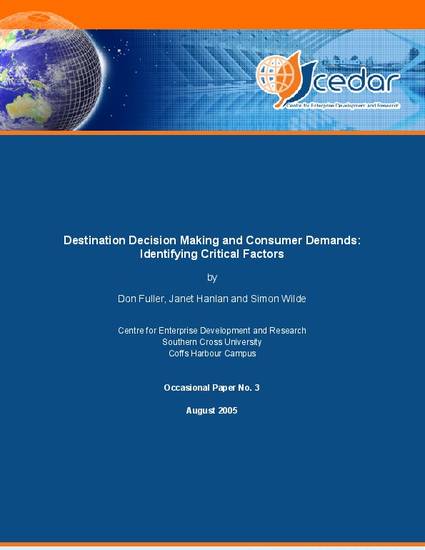 Unpublished Paper
Destination decision making and consumer demands: identifying critical factors
Center for Enterprise Development and Research Occasional Paper
Publication Date
1-1-2005
Abstract
The relatively large number of tourism destinations available both nationally and internationally has intensified competition between destinations for tourists. In addition, changes in technology and consumer tastes mean that many products including tourism products and services have shortening life cycles leading to the need to continually innovate and adapt tourism destination product offerings. Guests today are highly sensitive to the quality of service they receive and frequently are not prepared to compromise on this aspect which they regard as a very important part of a tourism product offering (Kamndampully and Duddy, 2001). To maintain market leadership, managers of firms will need to adopt approaches which simultaneously enhance the organisation's management systems and procedures as well as staff on a continual basis. However, there is also a need for firms to appreciate the close interrelationship of important factors such as the quality of resource inputs to the firm and the ability to anticipate and identify changing consumer demands. Such business related factors are essential if firms are to maintain and enhance firm competitiveness within tourism destinations. A strategic management approach is seen to be an important way in which the firm can identify, evaluate and develop strategies to meet the challenges posed by dynamic internal and external environments.
Citation Information
Fuller, D, Hanlan, J & Wilde, SJ 2005, 'Destination decision making and consumer demands: identifying critical factors', Center for Enterprise Development and Research Occasional Paper, no. 3, Southern Cross University, Coffs Harbour, NSW.