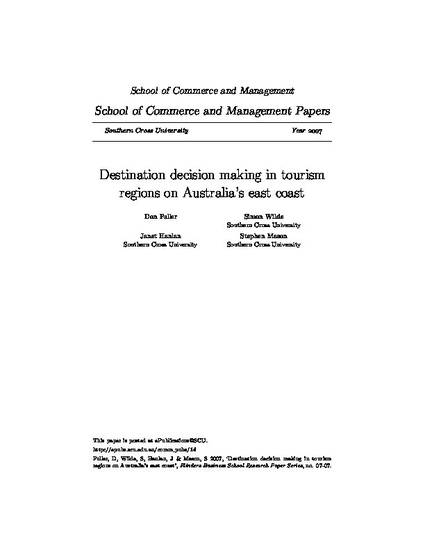 Popular Press
Destination decision making in tourism regions on Australia's east coast
Flinders Business School Research Paper Series
Publication Date
1-1-2007
Abstract
It is important to better understand the main drivers affecting the choice and later evaluation of a tourism destination by consumers. The experience usually involves the consumption of both products and services requiring a relatively high level of expenditure. More recently, studies have begun to investigate satisfaction levels relating to the quality of particular experiences by tourists visiting a destination. Within this context, the case study presented in this paper aims to investigate the motivation, behaviour and satisfaction levels of tourists to the Coffs Coast Tourism Region, located on the East Coast of Australia, within the State of New South Wales. The findings presented here should assist the development of strategies by planners aimed at better recognising and responding to changing demand patterns among potential visitors to important tourism regions such as that represented by the Coffs Coast Tourism Region.
Citation Information
Post-print of: Fuller, D, Wilde, SJ, Hanlan, J & Mason, S 2007, 'Destination decision making in tourism regions on Australia's east coast', Flinders Business School Research Paper Series, no. 07-07, Flinders University Business School, Adelaide, SA.