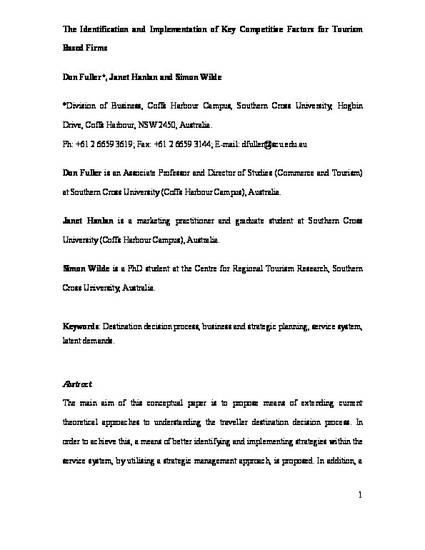 Article
The identification and implementation of key competitive factors for tourism based firms
International Journal of Hospitality and Tourism Administration
Publication Date
1-1-2007
Peer Reviewed
Peer-Reviewed
Abstract
The main aim of this conceptual paper is to propose means of extending current theoretical approaches to understanding the traveller destination decision process. In order to achieve this, a means of better identifying and implementing strategies within the service system, by utilising a strategic management approach, is proposed. In addition, a number of researchers have argued that service leaders successfully introduce products and services to the market far in advance of customer expectations. It is argued in this paper that such products and services are delivered by innovative organisations, able to assess that the benefits of such innovations will outweigh the costs. The firm attempts to tap "latent" demands that have yet to be fully articulated by the consumer through established expenditure patterns. By tapping into such demands within the consumer psyche, service firms are able to "delight" customers with their creativity and innovation. It is concluded that such a service component has become an integral source for sustainable competitive advantage within a business and strategic planning framework.
Citation Information
Post-print of: Fuller, D, Hanlan, J & Wilde, SJ 2007, 'The identification and implementation of key competitive factors for tourism based firms', International Journal of Hospitality and Tourism Administration, vol. 8, no. 3, pp. 73-90.
Published by The Haworth Press, Inc, Binghamton, NY.
Article copies available from The Haworth Document Delivery Service: 1-800-HAWORTH. E-mail address: docdelivery@haworthpress.com,
or from http://www.HaworthPress.com
Published version available from: