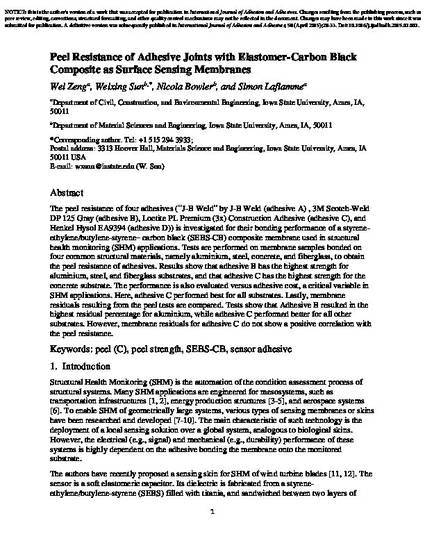 Article
Peel resistance of adhesive joints with elastomer–carbon black composite as surface sensing membranes
International Journal of Adhesion and Adhesives
Publication Version
Submitted Manuscript
Publication Date
4-1-2015
DOI
10.1016/j.ijadhadh.2015.01.001
Abstract
The peel resistance of four adhesives ("J-B Weld" by J-B Weld (adhesive A), 3 M Scotch-Weld DP 125 Gy (adhesive B), Loctite PL Premium (3x) Construction Adhesive (adhesive C), and Henkel Hysol EA9394 (adhesive D)) is investigated for their bonding performance of a styrene‐ethylene/butylene‐styrene– carbon black (SEBS–CB) composite membrane used in structural health monitoring (SHM) applications. Tests are performed on membrane samples bonded on four common structural materials, namely aluminium, steel, concrete, and fiberglass, to obtain the peel resistance of adhesives. Results show that adhesive B has the highest strength for aluminium, steel, and fiberglass substrates, and that adhesive C has the highest strength for the concrete substrate. The performance is also evaluated versus adhesive cost, a critical variable in SHM applications. Here, adhesive C performed best for all substrates. Lastly, membrane residuals resulting from the peel tests are compared. Tests show that Adhesive B resulted in the highest residual percentage for aluminium, while adhesive C performed better for all other substrates. However, membrane residuals for adhesive C do not show a positive correlation with the peel resistance.
Copyright Owner
Elsevier Ltd.
File Format
application/pdf
Citation Information
Wei Zeng, Weixing Sun, Nicola Bowler and Simon Laflamme. "Peel resistance of adhesive joints with elastomer–carbon black composite as surface sensing membranes"
International Journal of Adhesion and Adhesives
Vol. 58 (2015) p. 28 - 33
Available at: http://works.bepress.com/simon_laflamme/31/