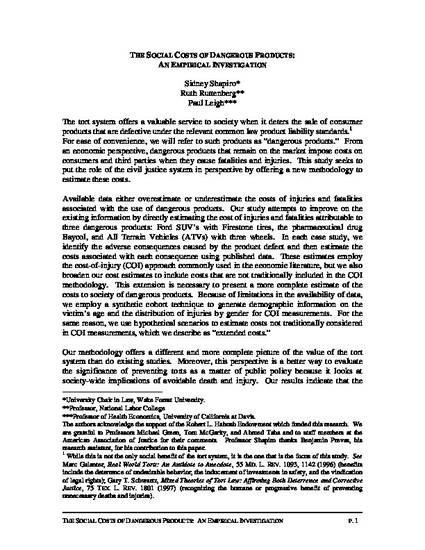 Unpublished Paper
The Social Cost of Dangerous Products: An Empirical Investigation
ExpressO (2008)
Abstract
The debate over far reaching changes in the common law of torts has produced a number of empirical studies focused on the operation of the tort litigation system. None of these studies, however, offers a sufficient measurement of the value of the tort system when it deters the sale of consumer products that are defective under the relevant common law product liability standards. Our study directly estimates the cost of injuries and fatalities attributable to three dangerous products: Ford SUV's with Firestone tires, the pharmaceutical drug Baycol, and All Terrain Vehicles (ATVs) with three wheels and discusses the implications of our findings. As far as we are aware, we are the first researchers to employ this methodology to measure the social costs of dangerous products. We believe that this approach not only offers a different and more complete picture of the value of the tort system than do existing studies, it is a better way to evaluate the significance of preventing torts as a matter of public policy because it looks at society-wide implications of avoidable death and injury.
Publication Date
August 4, 2008
Citation Information
Sidney A Shapiro, J. Paul Leigh and Ruth Ruttenberg. "The Social Cost of Dangerous Products: An Empirical Investigation"
ExpressO
(2008)
Available at: http://works.bepress.com/sidney_shapiro/1/