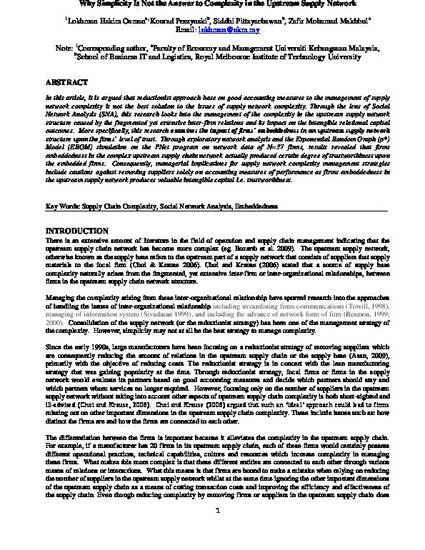 Presentation
Seeing the forest for the trees: Why simplicity is not the answer to complexity in the upstream supply network
International Conference on Innovation Driven Supply Chain (2014)
Abstract
In this article, it is argued that reductionist approach base on good accounting measures to the management of supply network complexity is not the best solution to the issues of supply network complexity. Through the lens of Social Network Analysis (SNA), this research looks into the management of the complexity in the upstream supply network structure caused by the fragmented yet extensive inter-firm relations and its impact on the intangible relational capital outcomes. More specifically, this research examines the impact of firms' embeddedness in an upstream supply network structure upon the firms' level of trust. Through exploratory network analysis and the Exponential Random Graph (p*) Model (ERGM) simulation on the PNet program on network data of N=37 firms, results revealed that firms embeddedness in the complex upstream supply chain network actually produced certain degree of trustworthiness upon the embedded firms. Consequently, managerial implications for supply network complexity management strategies include cautions against removing suppliers solely on accounting measures of performance as firms embeddedness in the upstream supply network produces valuable intangible capital i.e. trustworthiness.
Publication Date
March 26, 2014
Location
Bedong, Kedah Darul Aman, Malaysia
Citation Information
Lokhman Hakim Osman, Konrad Peszynski and Siddhi Pittayachawan. "Seeing the forest for the trees: Why simplicity is not the answer to complexity in the upstream supply network"
International Conference on Innovation Driven Supply Chain
(2014)
Available at: http://works.bepress.com/siddhi/83/