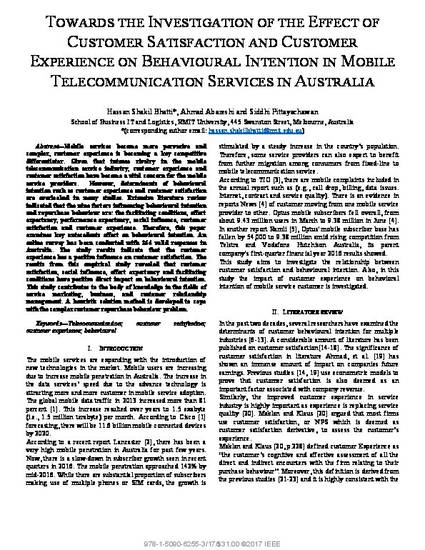 Presentation
Towards the investigation of the effect of customer satisfaction and customer experience on behavioural intention in mobile telecommunication services in Australia
International Conference on Research and Innovation in Information Systems (2017)
Abstract
Mobile services become more pervasive and complex, customer experience is becoming a key competitive differentiator. Given that intense rivalry in the mobile telecommunication service industry, customer experience and customer satisfaction have become a vital concern for the mobile service providers. However, determinants of behavioural intention such as customer experience and customer satisfaction are overlooked in many studies. Extensive literature review indicated that the nine factors influencing behavioural intention and repurchase behaviour are: the facilitating conditions, effort expectancy, performance expectancy, social influence, customer satisfaction and customer experience. Therefore, this paper examines key antecedents effect on behavioural intention. An online survey has been conducted with 364 valid responses in Australia. The study results indicate that the customer experience has a positive influence on customer satisfaction. The results from this empirical study revealed that customer satisfaction, social influence, effort expectancy and facilitating conditions have positive direct impact on behavioural intention. This study contributes to the body of knowledge in the fields of service marketing, business, and customer relationship management. A heuristic solution method is developed to cope with the complex customer repurchase behaviour problem.
Publication Date
July 16, 2017
Location
Langkawi, Malaysia
DOI
10.1109/ICRIIS.2017.8002542
Citation Information
Hassan Shakil Bhatti, Ahmad Abareshi and Siddhi Pittayachawan. "Towards the investigation of the effect of customer satisfaction and customer experience on behavioural intention in mobile telecommunication services in Australia"
International Conference on Research and Innovation in Information Systems
(2017)
Available at: http://works.bepress.com/siddhi/80/