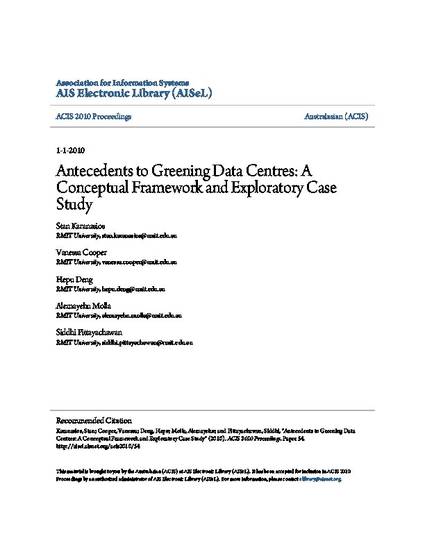 Presentation
Antecedents to greening data centres: A conceptual framework and exploratory case study
Australasian Conference on Information Systems (2010)
Abstract
Data centre energy consumption is expected to increase organisational costs and CO2 emissions. Greening data centres can decrease these negative impacts. As a result, examining the antecedents to approaches for greening data centres in order to facilitate their widespread adoption is critical. This study aims to identify the antecedents to the adoption of technologies and techniques (including those that are commonly accepted to produce successful outcomes, i.e. best practices) in greening data centres. A conceptual framework is proposed for explicating the conditions that might influence the adoption of the best practices in greening data centres. The conceptual framework is partially explored through two case studies. A series of theoretical propositions that are rooted in institutional, motivation-ability and utilitarian theories are proposed. The findings show that organisational propensity to adopt greening data centre best practices is based on institutional pressure, organisational and environmental efficiency motivations, organisational ability to take on greener practices and performance and effort expectancy.
Publication Date
December 1, 2010
Location
Brisbane, QLD, Australia
DOI
10.13140/2.1.1833.8086
Citation Information
Stan Karanasios, Vanessa Cooper, Hepu Deng, Alemayehu Molla, et al.. "Antecedents to greening data centres: A conceptual framework and exploratory case study"
Australasian Conference on Information Systems
(2010)
Available at: http://works.bepress.com/siddhi/73/