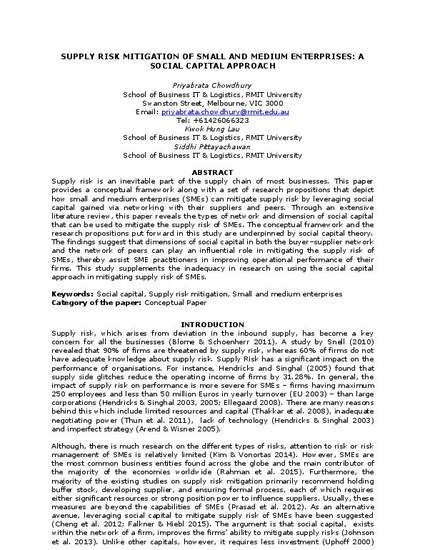 Presentation
Supply risk mitigation of small and medium enterprises: A social capital approach
International Symposium on Logistics (2016)
Abstract
Supply risk is an inevitable part of the supply chain of most businesses. This paper provides a conceptual framework along with a set of research propositions that depict how small and medium enterprises (SMEs) can mitigate supply risk by leveraging social capital gained via networking with their suppliers and peers. Through an extensive literature review, this paper reveals the types of network and dimension of social capital that can be used to mitigate the supply risk of SMEs. The conceptual framework and the research propositions put forward in this study are underpinned by social capital theory. The findings suggest that dimensions of social capital in both the buyer–supplier network and the network of peers can play an influential role in mitigating the supply risk of SMEs, thereby assist SME practitioners in improving operational performance of their firms. This study supplements the inadequacy in research on using the social capital approach in mitigating supply risk of SMEs.
Publication Date
July 3, 2016
Location
Kaohsiung, Taiwan
DOI
10.13140/RG.2.2.23117.03045
Citation Information
Priyabrata Chowdhury, Kwok Hung Lau and Siddhi Pittayachawan. "Supply risk mitigation of small and medium enterprises: A social capital approach"
International Symposium on Logistics
(2016)
Available at: http://works.bepress.com/siddhi/69/