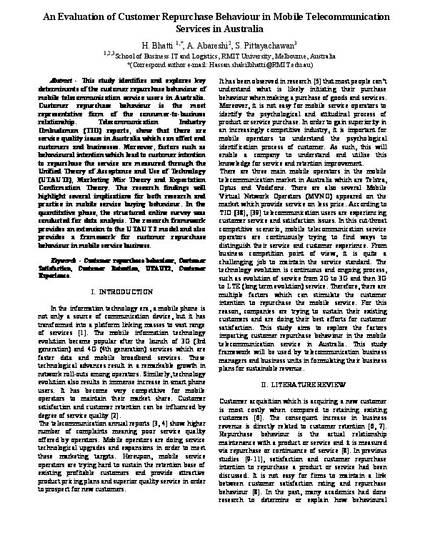 Presentation
An evaluation of customer repurchase behaviour in mobile telecommunication services in Australia
IEEE International Conference on Industrial Engineering and Engineering Management (2016)
Abstract
This study identifies and explores key determinants of the customer repurchase behaviour of mobile telecommunication service users in Australia. Customer repurchase behaviour is the most representative form of the consumer-to-business relationship. Telecommunication Industry Ombudsman (TIO) reports, show that there are service quality issues in Australia which can affect end customers and businesses. Moreover, factors such as behavioural intention which lead to customer intention to repurchase the service are measured through the Unified Theory of Acceptance and Use of Technology (UTAUT2), Marketing Mix Theory and Expectation Confirmation Theory. The research findings will highlight several implications for both research and practice in mobile service buying behaviour. In the quantitative phase, the structured online survey was conducted for data analysis. The research framework provides an extension to the UTAUT 2 model and also provides a framework for customer repurchase behaviour in mobile service business.
Publication Date
December 4, 2016
DOI
10.1109/IEEM.2016.7797946
Citation Information
Hassan Bhatti, Ahmad Abareshi and Siddhi Pittayachawan. "An evaluation of customer repurchase behaviour in mobile telecommunication services in Australia"
IEEE International Conference on Industrial Engineering and Engineering Management
(2016)
Available at: http://works.bepress.com/siddhi/65/