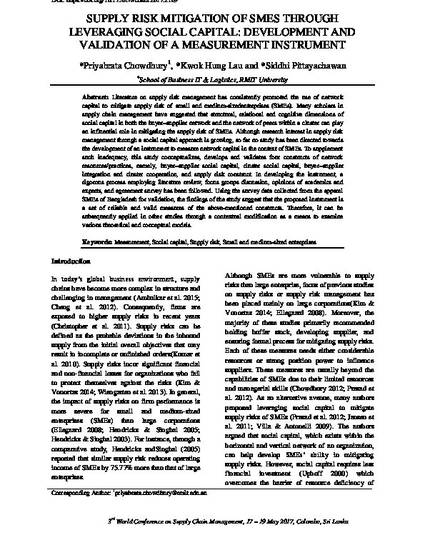 Presentation
Supply risk mitigation of SMEs through leveraging social capital: Development and validation of a measurement instrument
World Conference on Supply Chain Management (2017)
Abstract
Literature on supply risk management has consistently promoted the use of network capital to mitigate supply risk of small and medium-sized enterprises (SMEs). Many scholars in supply chain management have suggested that structural, relational and cognitive dimensions of social capital in both the buyer–supplier network and the network of peers within a cluster can play an influential role in mitigating the supply risk of SMEs. Although research interest in supply risk management through a social capital approach is growing, so far no study has been directed towards the development of an instrument to measure network capital in the context of SMEs. To supplement such inadequacy, this study conceptualizes, develops and validates four constructs of network resources/practices, namely, buyer–supplier social capital, cluster social capital, buyer–supplier integration and cluster cooperation, and supply risk construct. In developing the instrument, a rigorous process employing literature review, focus groups discussion, opinions of academics and experts, and agreement survey has been followed. Using the survey data collected from the apparel SMEs of Bangladesh for validation, the findings of the study suggest that the proposed instrument is a set of reliable and valid measures of the above-mentioned constructs. Therefore, it can be subsequently applied in other studies through a contextual modification as a means to examine various theoretical and conceptual models.
Publication Date
May 18, 2017
Location
Colombo, Sri Lanka
DOI
10.17501/wcosm.2017.2109
Citation Information
Priyabrata Chowdhury, Kwok Hung Lau and Siddhi Pittayachawan. "Supply risk mitigation of SMEs through leveraging social capital: Development and validation of a measurement instrument"
World Conference on Supply Chain Management
(2017)
Available at: http://works.bepress.com/siddhi/64/