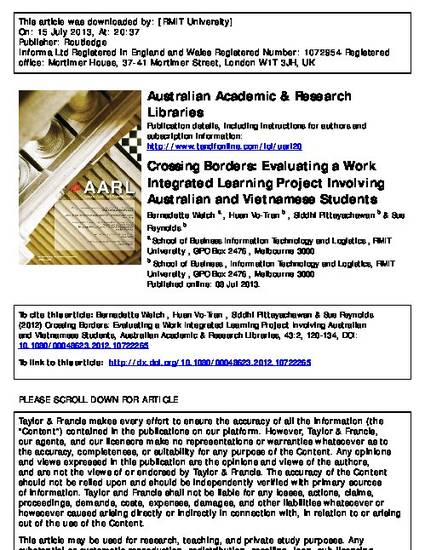 Article
Crossing borders: Evaluating a work integrated learning project involving Australian and Vietnamese students
Australian Academic & Research Libraries (2012)
Abstract
The value of work integrated learning (WIL) is well-established in the education of information management (IM) professionals. Adding value to WIL through cross-cultural or cross-disciplinary experiences is considered in this article. using online communication, simulation activities, and onsite work, students from RMIT Melbourne and RMIT Ho Chi Minh City were involved in planning, negotiating, and delivering specific projects in the Da Nang General hospital (DNGH) in Vietnam as part of their WIL. Evaluation of the whole project was undertaken through the collection of data from an online survey which rated the importance and performance of specific elements of the project. Feedback from focus group interviews was also collected and has informed the evaluation. The analysis of the data revealed positive participant perceptions of the outcomes of the project and its importance which may be taken into consideration by similar cross-cultural projects.
Publication Date
June 1, 2012
DOI
10.1080/00048623.2012.10722265
Citation Information
Bernadette Welch, Huan Vo-Tran, Siddhi Pittayachawan and Sue Reynolds. "Crossing borders: Evaluating a work integrated learning project involving Australian and Vietnamese students"
Australian Academic & Research Libraries
Vol. 43 Iss. 2 (2012) p. 120 - 134
Available at: http://works.bepress.com/siddhi/60/