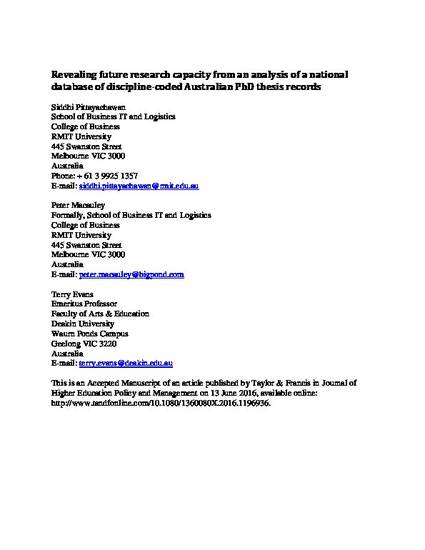 Article
Revealing future research capacity from an analysis of a national database of discipline-coded Australian PhD thesis records
Journal of Higher Education Policy and Management (2016)
Abstract
This article reports how statistical analyses of PhD thesis records can reveal future research capacities for disciplines beyond their primary fields. The previous research showed that most theses contributed to and/or used methodologies from more than one discipline. In Australia, there was a concern for declining mathematical teaching and research capacity. We decided to investigate the 'hidden' mathematics research capacity in PhDs outside of mathematics. Australian PhD records were re-coded with up to three fields. Records with mathematics as one of their codes were selected and analysed for their relationships to disciplines in their other codes. Triple-coding revealed 'hidden' mathematical research capacity that had previously been single-coded in another field had mathematics as one of their subsequent fields. Our findings have implications for policy and planning for mathematics in Australia, and multiple coding of PhD theses records enables analyses for other disciplines to be undertaken to show their research capacities.
Publication Date
June 13, 2016
DOI
10.1080/1360080X.2016.1196936
Citation Information
Siddhi Pittayachawan, Peter Macauley and Terry Evans. "Revealing future research capacity from an analysis of a national database of discipline-coded Australian PhD thesis records"
Journal of Higher Education Policy and Management
Vol. 38 Iss. 5 (2016) p. 562 - 575
Available at: http://works.bepress.com/siddhi/54/