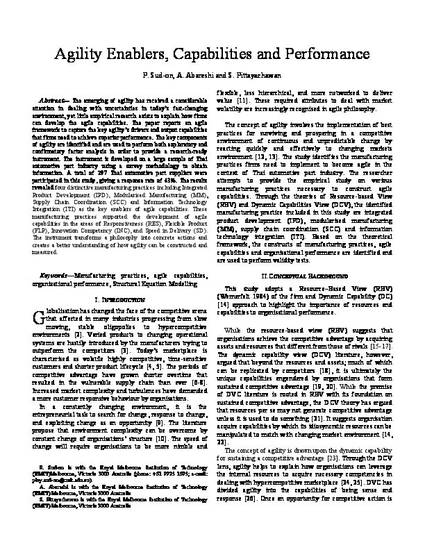 Presentation
Agility enablers, capabilities and performance
International Conference on Logistics Systems and Management (2014)
Abstract
The emerging of agility has received a considerable attention in dealing with uncertainties in today's fast-changing environment, yet little empirical research exists to explain how firms can develop the agile capabilities. The paper reports an agile framework to capture the key agility's drivers and output capabilities that firms need to achieve superior performance. The key components of agility are identified and are used to perform both exploratory and confirmatory factor analysis in order to provide a research-ready instrument. The instrument is developed on a large sample of Thai automotive part industry using a survey methodology to obtain information. A total of 297 Thai automotive part suppliers were participated in this study, giving a response rate of 43%. The results revealed four distinctive manufacturing practices including Integrated Product Development (IPD), Modularised Manufacturing (MM), Supply Chain Coordination (SCC) and Information Technology Integration (ITI) as the key enablers of agile capabilities. These manufacturing practices supported the development of agile capabilities in the areas of Responsiveness (RES), Flexible Product (FLP), Innovation Competency (INC), and Speed in Delivery (SD). The instrument transforms a philosophy into concrete actions and creates a better understanding of how agility can be constructed and measured.
Publication Date
August 7, 2014
Location
Amsterdam, Neatherlands
DOI
10.13140/2.1.3569.4884
Citation Information
Ploy Sud-on, Ahmad Abareshi and Siddhi Pittayachawan. "Agility enablers, capabilities and performance"
International Conference on Logistics Systems and Management
(2014)
Available at: http://works.bepress.com/siddhi/35/