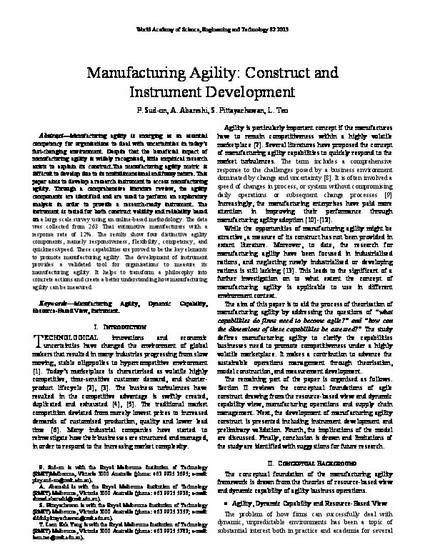 Presentation
Manufacturing agility: Construct and instrument development
International Conference on Supply Chain and Logistics Management (2013)
Abstract
Manufacturing agility is emerging as an essential competency for organisations to deal with uncertainties in today's fast-changing environment. Despite that the beneficial impact of manufacturing agility is widely recognised, little empirical research exists to explain its construct. The manufacturing agility metric is difficult to develop due to its multidimensional and fuzzy nature. This paper aims to develop a research instrument to access manufacturing agility. Through a comprehensive literature review, the agility components are identified and are used to perform an exploratory analysis in order to provide a research-ready instrument. The instrument is tested for both construct validity and reliability based on a large scale survey using an online-based methodology. The data was collected from 263 Thai automotive manufacturers with a response rate of 12%. The results show four distinctive agility components, namely responsiveness, flexibility, competency, and quickness/speed. These capabilities are proved to be the key elements to promote manufacturing agility. The development of instrument provides a validated tool for organisations to measure its manufacturing agility. It helps to transform a philosophy into concrete actions and create a better understanding how manufacturing agility can be measured.
Publication Date
October 14, 2013
DOI
10.13140/2.1.1309.5207
Citation Information
Ploy Sud-on, Ahmad Abareshi, Siddhi Pittayachawan and Leon Teo. "Manufacturing agility: Construct and instrument development"
International Conference on Supply Chain and Logistics Management
(2013)
Available at: http://works.bepress.com/siddhi/25/