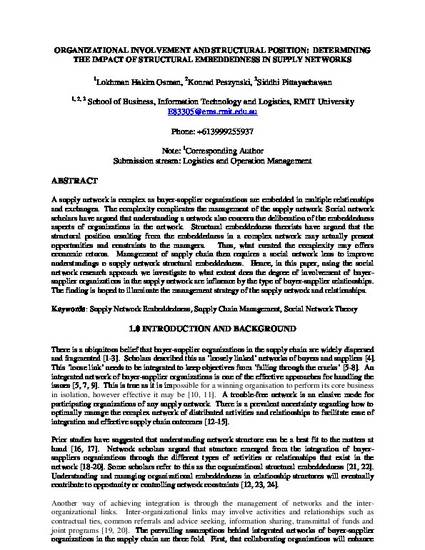 Presentation
Organizational involvement and structural position: Determining the impact of structural embeddedness in supply networks
ANZAM Operations, Supply Chain and Services Management Symposium (2012)
Abstract
A supply network is complex as buyer-supplier organizations are embedded in multiple relationships and exchanges. The complexity complicates the management of the supply network. Social network scholars have argued that understanding a network also concern the deliberation of the embeddedness aspects of organizations in the network. Structural embeddedness theorists have argued that the structural position resulting from the embeddedness in a complex network may actually present opportunities and constraints to the managers. Thus, what created the complexity may offers economic returns. Management of supply chain then requires a social network lens to improve understandings o supply network structural embeddedness. Hence, in this paper, using the social network research approach we investigate to what extent does the degree of involvement of buyer-supplier organizations in the supply network are influence by the type of buyer-supplier relationships.The finding is hoped to illuminate the management strategy of the supply network and relationships.
Keywords
Supply Network Embeddedness,
Supply Chain Management,
Social Network Theory
Publication Date
December, 2012
Location
Perth, WA, Australia
DOI
10.13140/2.1.2358.0964
Citation Information
Lokhman Hakim Osman, Konrad Peszynski and Siddhi Pittayachawan. "Organizational involvement and structural position: Determining the impact of structural embeddedness in supply networks"
ANZAM Operations, Supply Chain and Services Management Symposium
(2012)
Available at: http://works.bepress.com/siddhi/12/