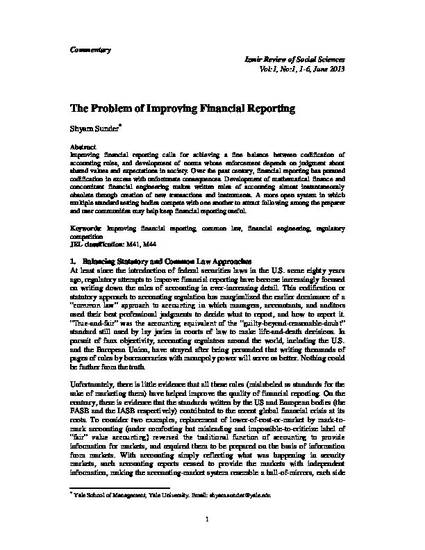 Article
The Problem of Improving Financial Reporting.
Izmir Review of Social Sciences (2013)
Abstract
Improving financial reporting calls for achieving a fine balance between codification of accounting rules, and development of norms whose enforcement depends on judgment about shared values and expectations in society. Over the past century, financial reporting has pursued codification in excess with unfortunate consequences. Development of mathematical finance and concomitant financial engineering makes written rules of accounting almost instantaneously obsolete through creation of new transactions and instruments. A more open system in which multiple standard setting bodies compete with one another to attract following among the preparer and user communities may help keep financial reporting useful. 
Keywords
Improving financial reporting,
common law,
financial engineering,
regulatory competition
Publication Date
June, 2013
Citation Information
Shyam Sunder. "The Problem of Improving Financial Reporting."
Izmir Review of Social Sciences
Vol. 1 Iss. 1 (2013) p. 1 - 6
Available at: http://works.bepress.com/shyam-sunder/459/