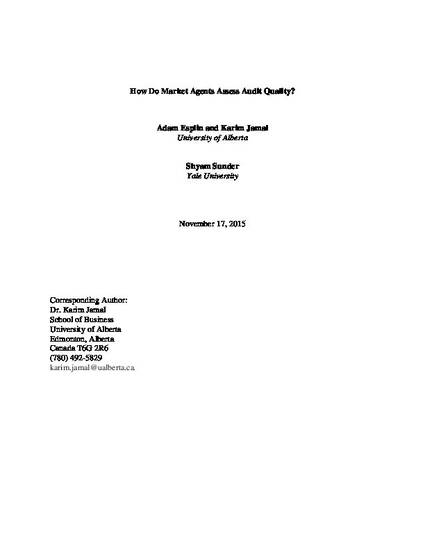 Unpublished Paper
How Do Market Agents Assess Audit Quality?
(2015)
Abstract
The Public Company Accounting Oversight Board (PCAOB) in the U.S. regulates auditing and seeks to promote its quality, a difficult-to-define concept. To understand how agents involved in private companies think of audit quality, we interview their CFOs, auditors, bankers, board members, bonding agencies, and some private equity investors. We find that a variety of agents demand an audit while retaining their scepticism and seeking independent corroboration of what they learn from the audited financial statements. Management selects the auditor. Audit Quality is assessed based on the degree to which the audit plan (inputs and risk assessment processes) aligns with the views of management and directors. In addition, output measures such as number of errors and the time when they are adjusted, tax advice, controls/governance advice and auditor candor are used to assess audit quality. As judged by users, quality depends on a combination of inputs, processes and outcomes of audits. 
Keywords
Sources of demand for audits,
regulation of audits,
auditor selection,
audit quality.
Publication Date
November 17, 2015
Citation Information
Adam Esplin, Karim Jamal and Shyam Sunder. "How Do Market Agents Assess Audit Quality?" (2015)
Available at: http://works.bepress.com/shyam-sunder/410/