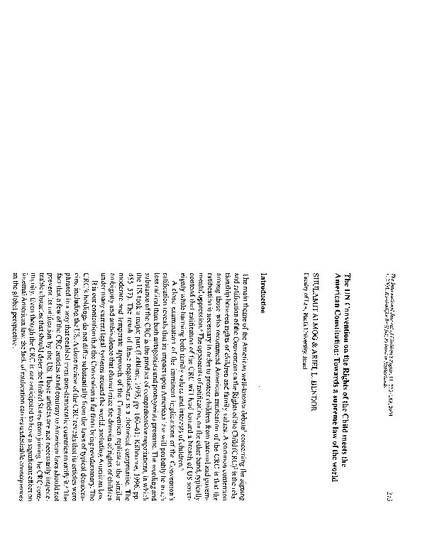 Article
The UN Convention of the Rights of the Child Meets the American Constitution: Toward a Supreme Law of the World
International Journal of Childrens's Rights (2003)
Abstract
A common contention among proponents of American ratification of the international Convention on the Rights of the Child (CRC) is that the ratification is necessary in order to protect children from paternal and governmental oppression. The opponents of ratification typically contend that it will lead toward a breach of US sovereignty while harming both family values and interests of children. The authors argue that the impact of CRC ratification upon American law will probably be much less radical than both antagonists and protagonists presume. The moderate and temperate approach of the Convention replicates the similar ambiguity and ambivalence that characterize the domain of children rights under current American law. The fact that a few of the CRC articles stand contrary to American laws should not prevent its ratification by the United States. Yet, the Article maintain that even though the CRC is not anticipated to have a significant effect on internal American law, the American refraining from ratification of the Convention may carry undesirable consequences concerning the rights of children in the global context.
Keywords
Best Interest of the Child,
Children's Rights,
International Convention on the Rights of the Child (CRC),
Parents,
Ratification of International Conventions
Publication Date
September 1, 2003
Citation Information
Shulamit Almog and Ariel L. Bendor. "The UN Convention of the Rights of the Child Meets the American Constitution: Toward a Supreme Law of the World"
International Journal of Childrens's Rights
Vol. 11 Iss. 3 (2003)
Available at: http://works.bepress.com/shulamit_almog1/6/