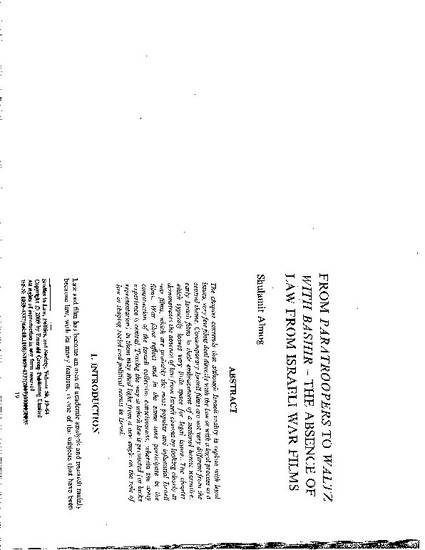 Article
From 'Paratroopers' to 'Waltz With Bashir' - The Absence of Law from Israeli War Films
Studies in Law, Politics and Society (2009)
Abstract
The chapter contends that although Israeli reality is saturated with law and legal issues, very few films deal directly with the law or with legal proceedings as a central theme. In this sense contemporary Israeli films are not very different from the early Israeli films in their embracement of a national heroic narrative, which typically leaves very little space for legal issues. The chapter demonstrates the absence of law from Israeli cinema by looking closely at war films, which are probably the most popular and influential Israeli films. War films reflect and in the same time participate in the construction of the Israeli collective consciousness, wherein the army experience is central. Tracing the way in which the law is presented (or lacks representation) in them may shed light from a new angle on the role of law in shaping social and political norms in Israel.
Keywords
waltz with bashir,
law and film,
Israli films,
war films,
absence of law
Publication Date
January 1, 2009
Citation Information
Shulamit Almog. "From 'Paratroopers' to 'Waltz With Bashir' - The Absence of Law from Israeli War Films"
Studies in Law, Politics and Society
Vol. 50 (2009)
Available at: http://works.bepress.com/shulamit_almog1/5/