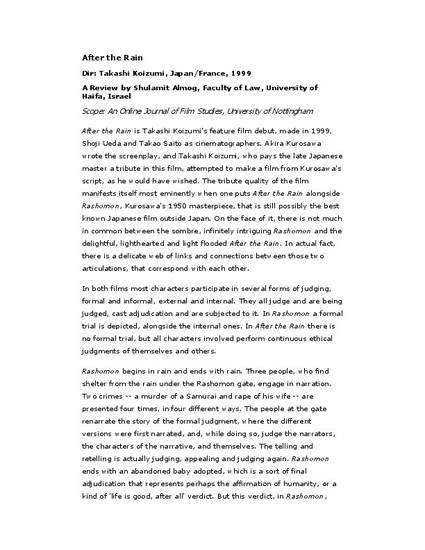 Article
Rashomon after the Rain: Judicial Perspective
Scope: An Online Journal of Film Studies, University of Nottingham (2003)
Abstract
After the Rain is Takashi Koizumi's feature film debut, made in 1999. Akira Kurosawa wrote the screenplay, and Takashi Koizumi attempted to make a film from Kurosawa's script, as he would have wished. The tribute quality of the film manifests itself most eminently when one puts After the Rain alongside Rashomon, Kurosawa's 1950 masterpiece. On the face of it, there is not much in common between the somber Rashomon and the delightful, lighthearted After the Rain. However, there is a complex web of links and connections between the two films, that together create an interesting contribution to the law and film discourse, particularly in their multilayered treatment of several kinds of judging.
Both films suggest that there are complex, intricate ties between several forms of judging that constitute our life. Alongside formal, legal adjudication operates social and cultural adjudication as well as internal-personal processes of self-judgment. Each system of adjudication has its own paths of decision-making and sentencing, but often enough those paths reach juxtaposition and sometimes they inevitably interlace.
Keywords
After the Rain,
law and film,
judging,
Akira Kurosawa
Publication Date
May 1, 2003
Citation Information
Shulamit Almog. "Rashomon after the Rain: Judicial Perspective"
Scope: An Online Journal of Film Studies, University of Nottingham
(2003)
Available at: http://works.bepress.com/shulamit_almog1/14/