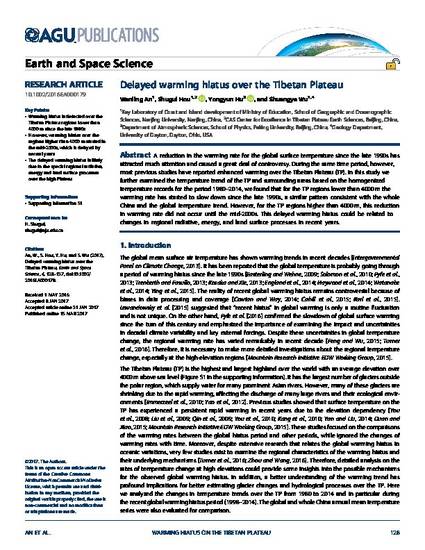 Article
Delayed Warming Hiatus over the Tibetan Plateau
Earth and Space Science
Publication Date
3-1-2017
Abstract
A reduction in the warming rate for the global surface temperature since the late 1990s has attracted much attention and caused a great deal of controversy. During the same time period, however, most previous studies have reported enhanced warming over the Tibetan Plateau (TP). In this study we further examined the temperature trend of the TP and surrounding areas based on the homogenized temperature records for the period 1980–2014, we found that for the TP regions lower than 4000 m the warming rate has started to slow down since the late 1990s, a similar pattern consistent with the whole China and the global temperature trend. However, for the TP regions higher than 4000 m, this reduction in warming rate did not occur until the mid‐2000s. This delayed warming hiatus could be related to changes in regional radiative, energy, and land surface processes in recent years.
Document Version
Published Version
Copyright
Copyright © 2017, The Author(s)
Publisher
American Geophysical Union
Citation Information
Wenling An, Shugui Hou, Yongyun Hu and Shuang-Ye Wu. "Delayed Warming Hiatus over the Tibetan Plateau"
Earth and Space Science
Vol. 4 Iss. 3 (2017)
Available at: http://works.bepress.com/shuang-ye_wu/5/