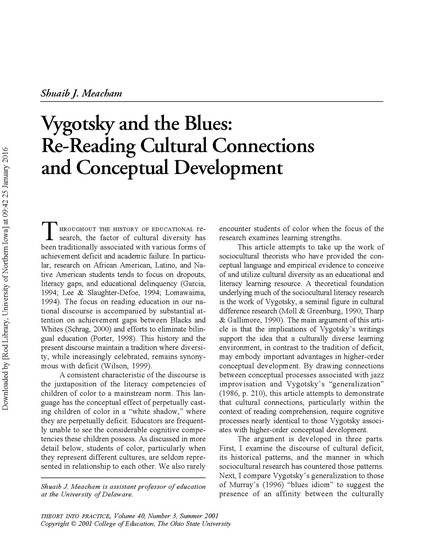 Article
Vygotsky and the Blues: Re-Reading Cultural Connections and Conceptual Development
Theory into Practice (2001)
Abstract
Explains how cultural connections, particularly within the context of reading comprehension, require cognitive processes nearly identical to those Vygotsky associated with higher-order conceptual development, examining the discourse of cultural deficit and how sociocultural research has countered its historical patterns, comparing Vygotsky's generalization to those of Albert Murray's (1996) blues idiom, and providing illustrative examples from a culturally diverse classroom.
Publication Date
Summer 2001
Citation Information
Shuaib J. Meacham. "Vygotsky and the Blues: Re-Reading Cultural Connections and Conceptual Development"
Theory into Practice
Vol. 40 Iss. 3 (2001)
Available at: http://works.bepress.com/shuaib_meacham/4/