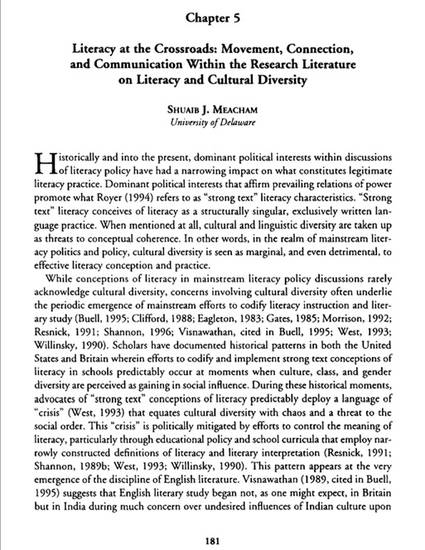 Article
Literacy at the Crossroads: Movement, Connection, and Communication With in the Research Literature on Literacy and Cultural Diversity
Review of Research in Education (2000)
Abstract
Historically and into the present, dominant political interests within discussions of literacy policy have had a narrowing impact on what constitutes legitimate literacy practice. Dominant political interests that affirm prevailing relations of power promote what Royer (1994) refers to as "strong text" literacy characteristics. "Strong text" literacy conceives of literacy as a structurally singular, exclusively written language practice. When mentioned at all, cultural and linguistic diversity are taken up as threats to conceptual coherence. In other words, in the realm of mainstream literacy politics and policy, cultural diversity is seen as marginal, and even detrimental, to effective literacy conception and practice.
Publication Date
January, 2000
Citation Information
Shuaib J. Meacham. "Literacy at the Crossroads: Movement, Connection, and Communication With in the Research Literature on Literacy and Cultural Diversity"
Review of Research in Education
Vol. 25 Iss. 1 (2000)
Available at: http://works.bepress.com/shuaib_meacham/10/