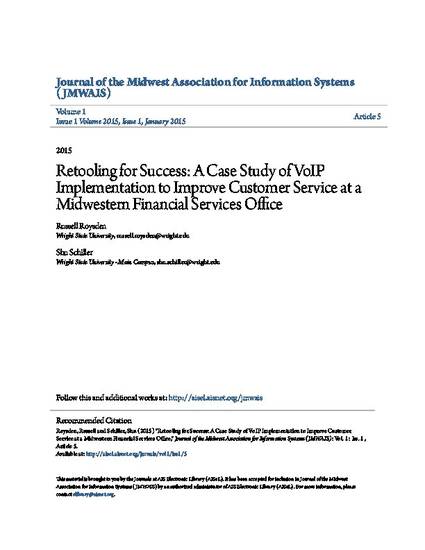 Article
Retooling for Success: A Case Study of VoIP Implementation to Improve Customer Service at a Midwestern Financial Services Office
Journal of the Midwest Association for Information Systems
Publication Date
1-1-2015
Abstract
This article presents a case study of the acquisition of a Voice over Internet Protocol (VoIP) system to replace an outdated telephone system at a Midwestern financial services company. In the Midwest retail office of ABC Financial Services, the old Private Branch Exchange (PBX) phone system was incapable of handling customer inquiries during the busy tax return season. The inefficient systems exposed the organization to missed and delayed calls, which lead to a considerable number of customer complaints and lost revenue. Guided by the systematic approach of technology retooling, computer engineers followed the steps of problem diagnosis, analysis of competing solutions, implementation, and assessment of the VoIP system as the replacement telecommunications platform. System performance and evaluation data were collected during and after system implementation. Assessment of the new VoIP system demonstrated improved availability, speed, and reliability of the information provided to customers. New functionalities, such as customer inquiry of the database, provided through the VoIP system pushed the self-service adoption to a record high level. The system implementation also fosters an updated IT plan that will help this organization chart its business strategy for future years.
Citation Information
Russell J. Roysden and Shu Z. Schiller. "Retooling for Success: A Case Study of VoIP Implementation to Improve Customer Service at a Midwestern Financial Services Office"
Journal of the Midwest Association for Information Systems
Vol. 2015 Iss. 1 (2015) p. 53 - 60
Available at: http://works.bepress.com/shu_schiller/18/