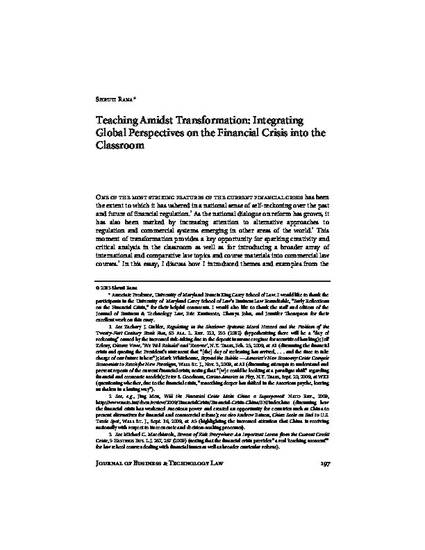 Article
Teaching Amidst Transformation: Integrating Global Perspectives on the Financial Crisis into the Classroom
8 Journal of Business & Technology Law 197 (2013)
Abstract
Teaching during tumultuous times requires creativity, but the lessons that emerge during times of crisis can also enrich classroom discussion by underscoring different perspectives and potential solutions to traditional classroom problems. This essay describes some methods for using examples from the recent financial crisis in the classroom, with the aim of enhancing comparative analyses and tying traditional financial concepts to broader themes stemming from the financial crisis.
Keywords
financial regulation,
teaching
Citation Information
8 Journal of Business & Technology Law 197 (2013).