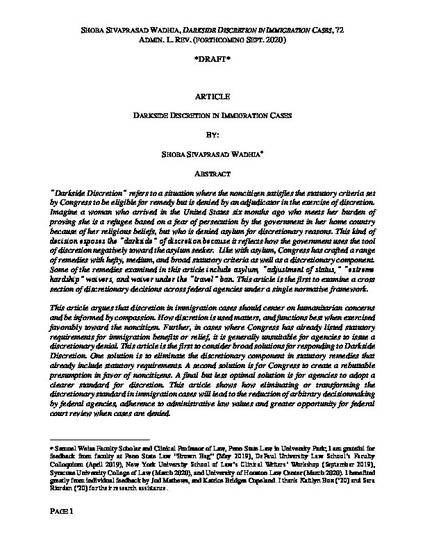 Article
Darkside Discretion in Immigration Cases
Administrative Law Review
Publication Date
1-1-2020
Abstract
"Darkside Discretion" refers to a situation where the noncitizen satisfies the statutory criteria set by Congress to be eligible for remedy but is denied by an adjudicator in the exercise of discretion. Imagine a woman who arrived in the United States six months ago who meets her burden of proving she is a refugee based on a fear of persecution by the government in her home country because of her religious beliefs, but who is denied asylum for discretionary reasons. This kind of decision exposes the "darkside" of discretion because it reflects how the government uses the tool of discretion negatively toward the asylum seeker. Like with asylum, Congress has crafted a range of remedies with hefty, medium, and broad statutory criteria as well as a discretionary component. Some of the remedies examined in this article include asylum, "adjustment of status," "extreme hardship" waivers, and waiver under the "travel" ban. This article is the first to examine a cross section of discretionary decisions across federal agencies under a single normative framework.

This article argues that discretion in immigration cases should center on humanitarian concerns and be informed by compassion. How discretion is used matters, and functions best when exercised favorably toward the noncitizen. Further, in cases where Congress has already listed statutory requirements for immigration benefits or relief, it is generally unsuitable for agencies to issue a discretionary denial. This article is the first to consider broad solutions for responding to Darkside Discretion. One solution is to eliminate the discretionary component in statutory remedies that already include statutory requirements. A second solution is for Congress to create a rebuttable presumption in favor of noncitizens. A final but less optimal solution is for agencies to adopt a clearer standard for discretion. This article shows how eliminating or transforming the discretionary standard in immigration cases will lead to the reduction of arbitrary decisionmaking by federal agencies, adherence to administrative law values and greater opportunity for federal court review when cases are denied.
Citation Information
Shoba Wadhia. "Darkside Discretion in Immigration Cases"
Administrative Law Review
Vol. 72 (2020) p. forthcoming
Available at: http://works.bepress.com/shoba_wadhia/51/