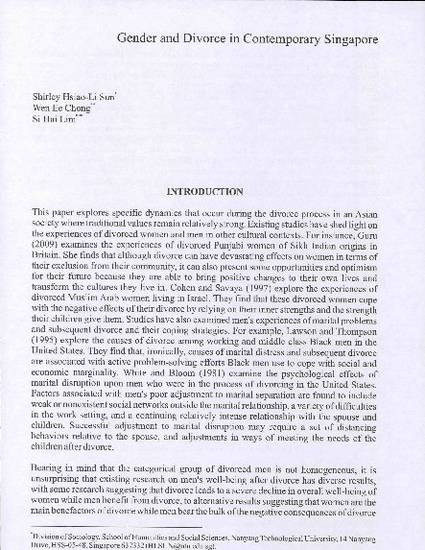 Article
Gender and Divorce in Contemporary Singapore
Journal of Comparative Family Studies (2014)
Abstract
We analyze the qualitative data collected through semi-structured interviews with 14 Chinese-Singaporean divorcees through the notion of "doing gender" (West and Zimmerman), and illustrate how various dimensions of the divorce experiences – including, but not limited to, the perceptions and experiences of court proceedings, coping strategies, and arrangements of childcare – vary along the gender line.
Keywords
divorce,
family,
gender,
singapore,
law
Publication Date
Winter January 1, 2014
Citation Information
Sun, Shirley Hsiao-Li, Chong Wen-Ee, and Lim, Si Hui. 2014, "Gender and Divorce in Contemporary Singapore." In "Changing Chinese Families" A special issue of Journal of Comparative Family Studies, 65(1):127-143.