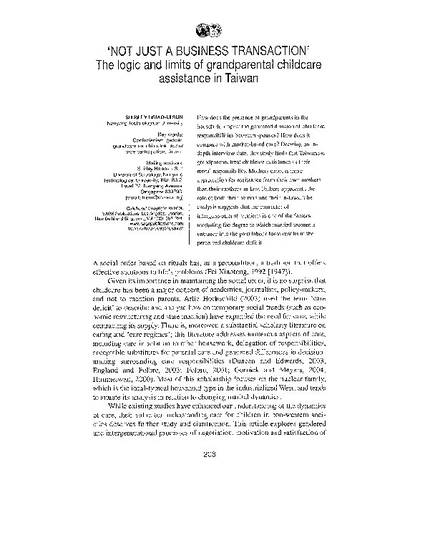 Article
Not Just a Business Transaction: The logic and limits of grandparental childcare assistance in Taiwan
Childhood (2008)
Abstract
How does the presence of grandparents in the household impact the gendered division of childcare responsibilities between spouses? How does it compare with market-based care? Drawing on in-depth interview data, this study finds that Taiwanese grandparents treat childcare assistance as their moral responsibility. Mothers express more appreciation for assistance from their own mothers than their mothers-in-law. Fathers appreciate the role of both their parents and their in-laws. The analysis suggests that the character of intergenerational relations is one of the factors mediating the degree to which married women's entrnace into the paid labour force results in the perceived childcare deficit.
Keywords
Confucianism,
gender,
grandparental childcare,
labour force participation,
Taiwan
Citation Information
Sun, Shirley Hsiao-Li. (2008) "Not Just a Business Transaction: The logic and limits of grandparental childcare assistance in Taiwan"
Childhood
15(2): 203-223. Available at: http://works.bepress.com/shirleysun/2